Jameis Winston Rape Investigation: FSU Officials, Tallahassee Police Attempted To Block Investigation Into Quarterback: Report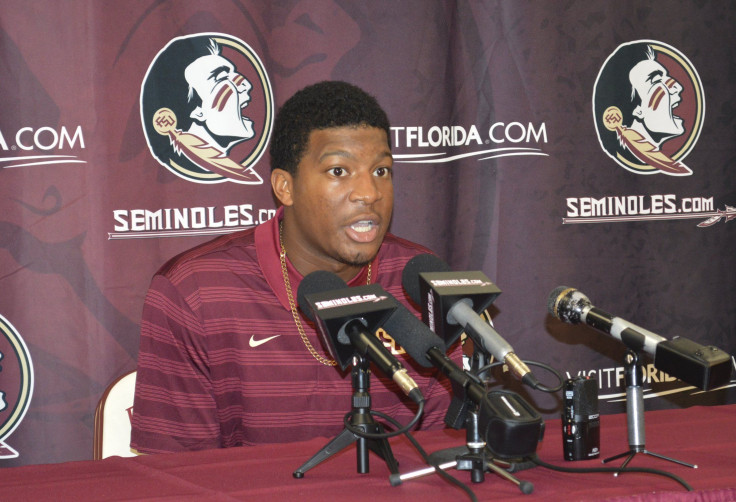 Officials at Florida State University, or FSU, and Tallahassee police actively attempted to "hide, and then hinder" investigations into the 2012 rape allegations against the school's quarterback Jameis Winston, according to a report by FOX Sports.
Winston, who is a winner of the Heisman Trophy, was accused of sexual assault in Dec. 2012. No charges were filed against him until Nov. 2013, when the state's attorney announced that it was opening an investigation into the accusation. However, the investigation was completed a month later without any charges being filed.
In the course of its own investigation, which involved perusing "thousands of pages of documents, including law enforcement files, e-mails and other correspondence as well as video and audio interviews conducted by detectives and other records," FOX Sports found that not only had the Tallahassee police forwarded their reports to officials in the FSU's athletic department, senior police officials had also interfered with reporters seeking information about the rape allegations.
"Two critical witnesses -- Florida State football players who said they were present the morning of the alleged assault -- discussed the case with Winston's lawyer and ultimately signed affidavits at his behest backing the quarterback's version of the incident. That happened before law enforcement officers tried to talk to them about what they saw and remembered, a dramatic road block in the state attorney's effort to determine whether Winston should be charged with rape," according to the report.
In addition, a report by The New York Times alleged officials at FSU's athletic department, which defended its handling of the allegations against Winston in a letter released Friday, decided not to launch an internal disciplinary inquiry after meeting with Winston's lawyers in January 2013 -- a clear violation of federal law.
© Copyright IBTimes 2023. All rights reserved.