James Traficant's Best Quotes: From 'Beam Me Up' To A Riot In Prison [VIDEO]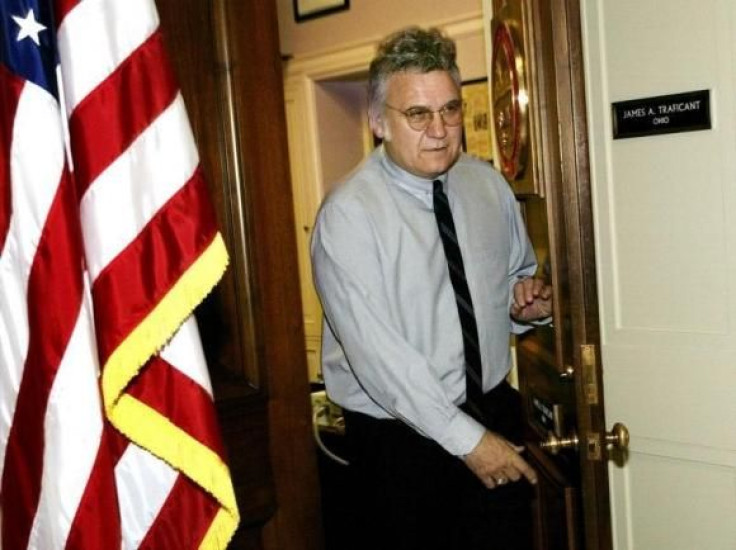 Even for a politician who served prison time for corruption, James Traficant was unusually eccentric. The former U.S. representative, an Ohio Democrat, died Saturday at age 73 but will certainly survive online for years to come thanks to his endless quotability and a series of videos that left everyone wondering, "Did he really just say that?"
Traficant spent nearly 20 years in Washington, making his name with a series of one-minute speeches in which he opined on a slew of topics. The congressman, who adopted the "beam me up" phrase from "Star Trek," was just as recognizable for his cheap suits and puff of elaborately combed grey hair (later revealed to be a wig).
Traficant died three days after he lost control of his 1948 Ford tractor, which rolled and pinned him at his Ohio farm. Below, presented in no particular order are some of the most memorable moments from the gentleman from Ohio:
Here, in a C-SPAN video from 1997, is Traficant complaining about the Internal Revenue Service taxes that are "high enough to cause a hernia for the jolly green giant" before muttering "beam me up" in disbelief.
Four years later in 2001 the IRS was still one of Traficant's favorite punching bags. In calling for the abolition of the agency, he equated the tax service with an unpleasant medical procedure:
"From the womb to the tomb, Madam Speaker, the Internal Rectal Service is one big enema. Think about it: They tax our income, they tax our savings, they tax our sex, they tax our property sales profits, they even tax our income when we die. Is it any wonder America is taxed off? We happen to be suffering from a disease called Taxes Mortis Americanus. Beam me up!"
He would eventually be convicted of using his position to extract bribes and convince businesses to act on his behalf for free. He became the second person to be expelled from Congress since the Civil War before ultimately serving seven years in prison. But not before he made light of the House of Representatives' inquiry.
"When I go to the floor for the final execution, I'll wear a denim outfit," Traficant said. "I will walk in there like Willie Nelson, combination of John Wayne, Will Smith -- 'Men in Black' -- James Brown. Maybe do a Michael Jackson moonwalk, right up to the stand and ask unanimous contempt to undress and revile the House."
Traficant, who represented himself at the trial, later told a local Ohio news outlet hiring an attorney would have been moot.
"Jesus Christ could't have won that trial," he said in 2012. "That trial was set up."
It was behind bars, though, where Traficant's reputation really soared. In an interview with Fox News' Greta Van Susteren upon his release, Traficant said he was placed in solitary confinement for behavioral issues. A transcript provided by Fox News is below, with a video of the complete interview attached.
VAN SUSTEREN: For what?
TRAFICANT: Well, they said I caused a riot. I asked a question of some jackass C.O. over there, some officer who was so dumb he could throw himself to the ground and miss. But anyway ...
VAN SUSTEREN: What was the question?
TRAFICANT: I forget what it was.
VAN SUSTEREN: Like what? I mean, can you give me an idea -- was it ...
TRAFICANT:No. I said, "People can't hear you. Speak up."
© Copyright IBTimes 2023. All rights reserved.