Janet Yellen Expects Interest Rates To Begin Rising Later In 2015
The U.S. central bank remains on track to begin raising interest rates later this year as long as inflation remains stable and the economy is strong enough to boost employment, said Federal Reserve Chairwoman Janet Yellen, Reuters reported Thursday. Yellen's statements came just one week after Fed policymakers delayed a rate hike and voted to keep interest rates near zero.
"Most FOMC [Federal Open Market Committee] participants, including myself, currently anticipate that achieving these conditions will likely entail an initial increase in the federal funds rate later this year, followed by a gradual pace of tightening thereafter," Yellen said in a speech at the University of Massachusetts, Amherst, Reuters reported.
Yellen predicted that inflation will gradually increase to the Fed's target rate of 2 percent as the unusually low oil prices rise and the dollar weakens, making the case for raising rates. She suggested that the current global economic weakness will not be "significant" to deter the Fed's plans to increase its key short-term rate from zero by December, according to the Guardian, and warned against delaying the hike for too long on what should be a quite gradual pace of rate increases.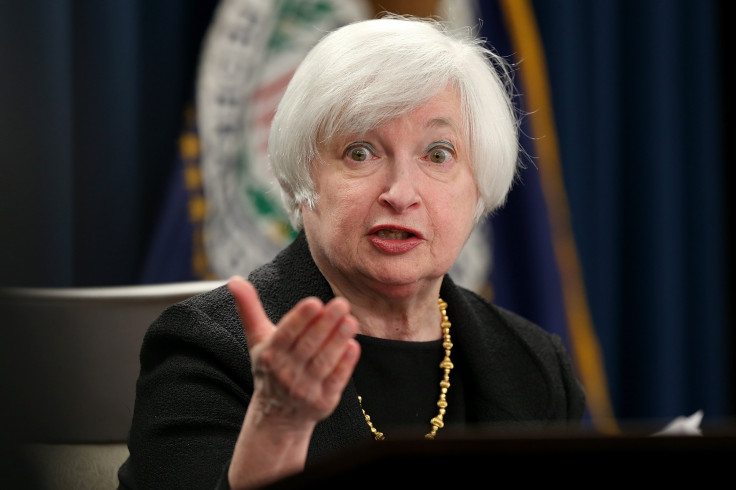 "The more prudent strategy is to begin tightening in a timely fashion and at a gradual pace, adjusting policy as needed in light of incoming data," said Yellen, Reuters reported.
When rates do go up, it will be the first time the Fed has raised interest rates in almost a decade. It will also amount to removing a policy that was put in place in 2007 to keep interest rates low for post-recession economic recovery, the Atlantic reported.
Meetings of the rate-setting FOMC are scheduled for October and December, and many foresee that a move will be made at the December meeting because Yellen is due to hold a news conference. The FOMC is a branch of the Federal Reserve Board that meets eight times a year to set key interest rates.
In what was a momentary health scare, Yellen struggled to finish her speech Thursday. She coughed and recomposed herself multiple times before walking off the stage. "Chair Yellen felt dehydrated at the end of a long speech under bright lights," Fed spokeswoman Michelle Smith said in an email, Reuters reported. "As a precaution, she was seen by [emergency medical] staff on-site at UMass Amherst. She felt fine afterwards and has continued with her Thursday evening schedule."
© Copyright IBTimes 2023. All rights reserved.
FOLLOW MORE IBT NEWS ON THE BELOW CHANNELS