Japan-China Tensions Grow As Japanese Lawmakers Visit Controversial Shrine; Japanese, Chinese Ships Sail Near Disputed East China Sea Islands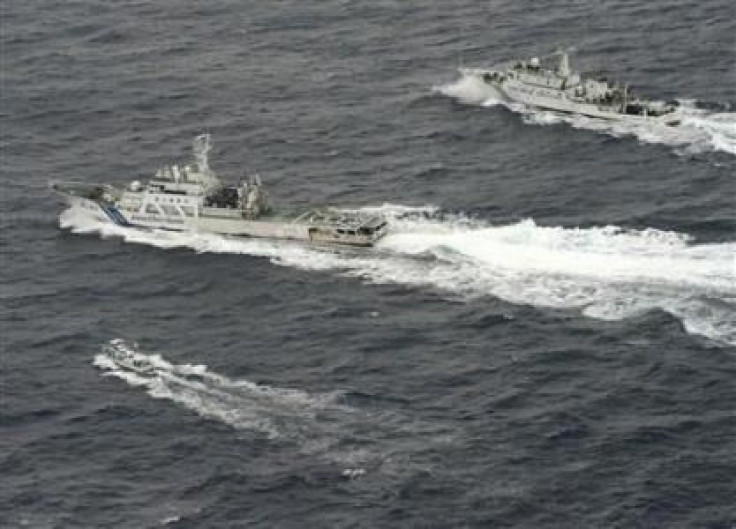 Fanning the flames of Japan's historical hostility with China and South Korea, a group of Japanese lawmakers visited a controversial shrine, seen as a symbol of Japan's past nationalist aggression, amid simmering territorial tensions. The shrine visit coincided with the movement of multiple vessels belonging to China and Japan sailing in and out of waters near a disputed group of islands in the East China Sea.
A day after South Korea's foreign minister canceled a trip to Japan after Japanese cabinet ministers visited the Yasukuni Shrine, a total of 168 Japanese MPs visited the war memorial, where 14 Japanese leaders convicted as war criminals by an Allied tribunal are honored, Agence France-Presse reported.
On Sunday, two Japanese cabinet ministers, including Deputy Prime Minister Taro Aso, visited the Yasukuni Shrine, sparking backlash from South Korea and China, the Asian victims of Japan's wartime aggression, prompting South Korean Foreign Minister Yun Byung-se to cancel his Monday's visit to Tokyo. Japan's nationalist Prime Minister Shinzo Abe made a ritual offering, but didn't visit the shrine.
Meanwhile, a Japanese flotilla of 10 boats carrying about 80 activists from the nationalist Ganbare Nippon ("Stand Firm, Japan") group sailed into waters around the disputed islands in the East China Sea early on Tuesday, but subsequently began to withdraw from the area on the orders of Japanese Coast Guard patrol ships, because Chinese government surveillance ships were nearby, Reuters reported.
The Japanese Coast Guard, which had 13 ships shadowing the flotilla, said eight Chinese patrol ships had entered the disputed waters.
The dispute over the uninhabited islands, known as the Senkaku Islands in Japan and the Diaoyu Islands in China, escalated in September, after the Japanese government bought three of the five main islands from their private owner.
The islands, which lie some 200km (124 miles) off Japan's Okinawa island and beyond China's 200 nautical mile (370km) exclusive economic zone, are surrounded by an area rich in fisheries and are believed to contain significant hydrocarbon resources.
Japan summoned the Chinese ambassador on Tuesday to protest the Chinese patrol ships entering the disputed waters.
"The [Chinese] intrusion into territorial waters is extremely regrettable. In any case, the Senkaku islands are Japan's own territory without a doubt," Japanese Chief Cabinet Secretary Yoshihide Suga told a news conference, as reported by Reuters.
"Japan strictly protests through diplomatic channels and demands they leave our waters swiftly," he said.
Regarding the controversy over the Yasukuni Shrine, Suga had said earlier that the cabinet ministers visited the shrine "as private individuals," adding that the issue shouldn't "impact diplomacy."
Earlier, China had voiced its disapproval of Japan's high-profile ministerial visit to the shrine, saying Tokyo had to own up to its past.
Chinese Foreign Ministry spokeswoman Hua Chunying said Japan's relations with its neighbors were dependent on its acceptance of its history.
"Japan must face up to its history of nationalist aggression," and respect the feelings of victims, the Chinese spokeswoman, Hua told a daily news briefing on Monday, as reported by Reuters.
An annual summit meeting among China, Japan and South Korea scheduled for May in Seoul is likely to be postponed due to China's reluctance to sit at the same table as Japan because of the island dispute, Japan's Asahi Shimbun newspaper reported.
A trilateral summit would bring South Korean President Park Geun-hye, Chinese Premier Li Keqiang and Japanese Prime Minister Shinzo Abe together for the first time, presenting them an opportunity to refresh and mend the ties strained over territorial and historical issues.
The ties between Seoul and Tokyo deteriorated last year after then-South Korean President Lee Myung-Bak made a visit — the first official visit by an incumbent South Korean president — to a set of islands known as Dokdo in Korea and Takeshima in Japan and claimed by both the countries.
© Copyright IBTimes 2023. All rights reserved.
FOLLOW MORE IBT NEWS ON THE BELOW CHANNELS