Japan Finds Chinese Ships Moving Equipment For Gas Exploration In East China Sea, Files Protest
KEY POINTS
Japan claims China is carrying out new construction work for gas field exploration
The work is happening on the west of the median line between the countries
Japan regards the median line as the demarcation line while China counters it
The relations between Japan and China have worsened after Tokyo filed its protest against the alleged unilateral resource development work carried out by Beijing in the disputed waters of the East China Sea.
Senior diplomats from Japan and China will meet this Thursday to discuss Tokyo's allegation that Beijing was setting up gas field exploration platforms on the west of the equidistance line between the countries, reported Kyodo News.
The work is reportedly being done in the East China Sea, where no official border between the two countries exists. The meeting is the first one since last November, and will have Takehiro Funakoshi, head of the Asian and Oceanian Affairs Bureau at the Foreign Ministry, representing Japan. China will field Hong Liang, who is in charge of boundary and ocean affairs.
According to the Japanese government, the Japan Maritime Self-Defense Force found Chinese ships transporting what would be the "foundation" of a new structure on the west side of a Tokyo-proposed median line separating the countries' exclusive economic zones in the sea. While Japan regards the median line as the demarcation line, China says its EEZ extends much further.
"It is extremely regrettable that China is proceeding with its unilateral development activity, even though it is on the west side of the equidistance line between Japan and China," the ministry said in a statement.
Japanese Navy also found another area of ongoing construction by China in nearby waters. Tokyo claims it is aware of 18 structures developed by Beijing on the Chinese side of the median line in the sea.
Earlier this month, the Japanese Foreign Ministry officials claimed the Chinese ship was spotted releasing what was likely observation equipment into the sea in Japan's exclusive economic zone near the southern prefecture of Okinawa. The research vessel was spotted by a Japanese coast guard patrol boat about 73 kilometers north of Ishigaki Island.
Japan and China agreed to jointly develop gas in the region in 2008, but the deal fell apart two years later after a Chinese trawler collided with a Japan Coast Guard vessel.
According to the Japanese ministry, Japan will also raise the issue of Russian and Chinese bombers flying over waters near Japan amid the Quad summit in May. Tokyo also plans to bring up creating a hotline between the Japan Self-Defense Forces and the Chinese People's Liberation Army (PLA) to avoid unintentional contingencies.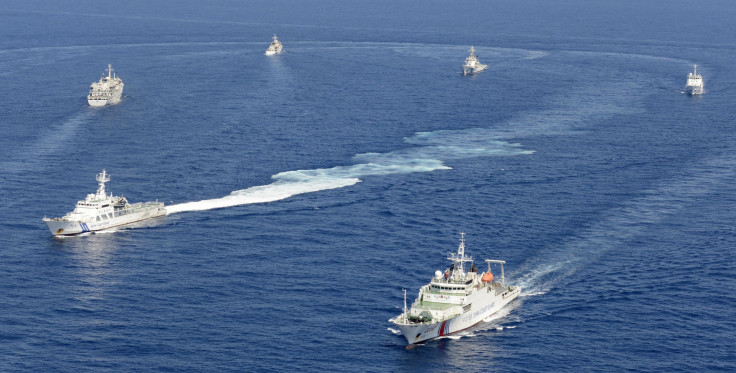 © Copyright IBTimes 2022. All rights reserved.
FOLLOW MORE IBT NEWS ON THE BELOW CHANNELS