Japan Inflation Accelerated In December as Abe Sought Wage Increases; Manufacturing January PMI Approaches 8-Year High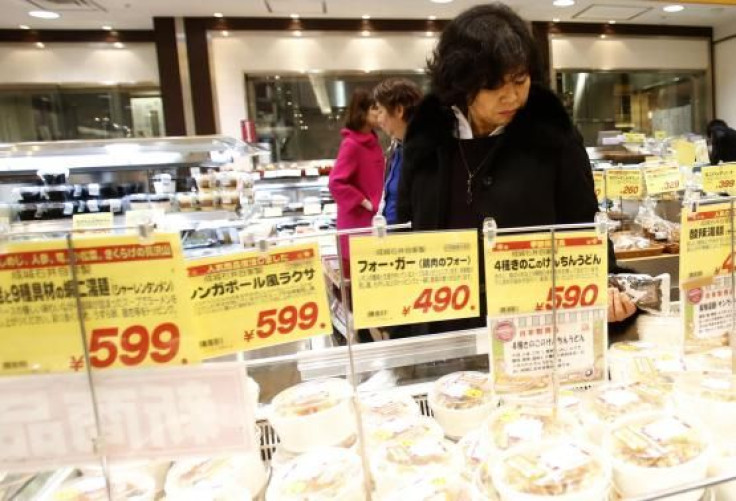 Japan's core consumer inflation rose at the speediest pace in more than five years in December, while the job market got better.
The increased inflation has placed pressure on Prime Minister Shinzo Abe's government to encourage wage gains as his efforts to free the nation from the deflationary debility that has lasted 15 years continue.
Factory output also grew last month, and manufacturers believe they will continue to increase production, according to Reuters. Still, some analysts are worried about the possible problems brought on from recent turmoil in emerging markets.
"The core consumer price index was stronger than expected, and durable goods prices seem to be rebounding. Consumer prices will likely continue its moderate growth," said Junko Nishioka, chief economist at RBS Securities.
Prices excluding those of fresh food climbed 1.3 percent from a year before, said Japan's statistics bureau.
According to other data, 103 jobs were available for every 100 person hunting for employment, thus revealing a tightening in the labor market that might put pressure on companies to raise salaries.
Tokyo Metro Co., Coca-Cola (Japan) Co. and other companies have announced price increases, so the challenge for Japanese policymakers is to encourage wage increases while maintaining an exit from deflation after an April rise in the country's sales tax that's predicted to spur contraction.
Many economists believe the Bank of Japan will expand presently prominent easing in the first half of 2014, Bloomberg reported.
"Consumers will be hit in the pocket from rising prices and the upcoming sales-tax hike," Masamichi Adachi, a senior economist at JPMorgan Chase & Co. in Tokyo, said. "The onus is now on companies to convert their profits into wage increases and capital spending."
As for Japanese manufacturing activity, the Markit/JMMA Japan Manufacturing Purchasing Managers Index (PMI) rose to a seasonally adjusted 56.6 in January, from 55.2 in the previous month.
It was the fastest pace that Japanese manufacturing activity has grown in almost eight years, as new orders expanded at a record rate -- and it was a sign of muscular domestic demand prior to an increase in the sales tax in April.
For the 11th consecutive month, the index stayed higher than the 50 threshold separating expansion from contraction, and it reached the loftiest level since February 2006.
"Evidence from panelists suggested that the upcoming rise in the sales tax was a key factor driving the recent expansion, as customers order early to avoid the higher tariff," Claudia Tillbrooke, economist at Markit, noted.
"However, the continued expansion of employment, suggests a degree of confidence in the longevity of the current upturn."
The PMI index's output component climbed to 61.1 from 58.3 in the prior month to reach the highest spot since it was created back in October 2001.
The index for new export orders fell to 52.8 in January from 55.7 in the previous month.
In April, Prime Minister Shinzo Abe's government will raise the 5 percent sales tax to 8 percent in order to pay for climbing welfare costs, according to Reuters.
Sales of apartments, houses, cars and durable goods have been increasing since mid-2013 as the Japanese pubilc eyes relatively expensive items before the tax increase.
© Copyright IBTimes 2023. All rights reserved.
FOLLOW MORE IBT NEWS ON THE BELOW CHANNELS