Japan PM to Resign, Successor Race Hard to Call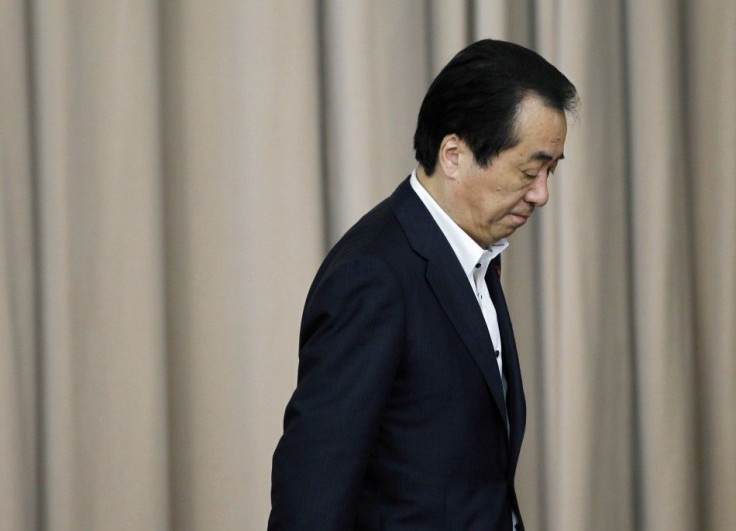 The race to pick Japan's sixth leader in five years appeared on Friday to be shaping up as a battle between the most popular contender and a rival backed by a party powerbroker, although with five candidates in play, the outcome was hard to call.
Prime Minister Naoto Kan, who came under fire for his response to the massive March tsunami and the radiation crisis it triggered, stepped down as ruling Democratic Party of Japan (DPJ) leader, clearing the way for the Democrats to pick a successor on Monday.
I want to make every effort to realize a society that does not rely on nuclear power, Kan told a news conference. Kan's proposed energy policy shift is backed by most voters, but he was unable to parlay that public support into popularity.
NHK public TV said party powerbroker Ichiro Ozawa would back Trade Minister Banri Kaieda, who has distanced himself from Kan's tough anti-nuclear power stance, rather than Seiji Maehara, a former foreign minister who ranks high with ordinary voters. Maehara, a security hawk, has called for phasing out nuclear power by around 2030.
Kan's successor faces huge challenges, including a strong yen seen as a threat to the export-reliant economy, rebuilding from the devastation of the March disasters, ending the radiation crisis at a crippled nuclear plant, forging a new energy policy, and curbing huge public debt while funding the bulging social welfare costs of an aging society.
Rating agency Moody's this week downgraded Japan's sovereign debt a notch, citing its revolving-door leadership as an obstacle to effective economic policies.
With five lawmakers including Finance Minister Yoshihiko Noda jostling for the job, a run-off between the top two candidates might be needed if none wins a majority in the first vote.
The question is who will be the two top candidates -- Meahara and maybe Kaieda, and how other groups would go in a second round, Sophia University professor Koichi Nakano said.
RIFT OVER OZAWA'S ROLE
A rift over the role of Ozawa, a political mastermind with an image as an old-style wheeler-dealer, has plagued the DPJ since the novice party swept to power in 2009 pledging change. Some admire and are beholden to his skills, while others worry his negative image damages the party with the public.
Whether and when to raise taxes to curb a public debt already twice the size of Japan's $5 trillion economy is a focus of debate in the leadership race.
But any decision by Ozawa -- who some in the party credit with engineering its 2009 election landslide -- on who to back is seen likely to be decided more by his hopes of boosting his clout than by policy positions.
I've known Mr. Ozawa for 43 years and he has never acted based on policies, ruling party elder Kozo Watanabe told Reuters in a recent interview.
Speculation had simmered that Ozawa might back a mystery candidate or even support Finance Minister Noda, the most fiscally conservative of the contenders.
Ozawa long ago proposed raising the sales tax -- long viewed as a taboo by many Japanese politicians -- to fund social welfare, but more recently has promoted populist policies to give consumers more spending power.
Most other candidates agree on the need to curb debt but are cautious about the timing of a sales tax hike and oppose higher levies for rebuilding from the March disasters.
Maehara, who promises to focus economic policy on promoting growth and beating deflation, is the most popular with voters among seven contenders jostling for the nation's top job.
But only DPJ lawmakers can vote in the party leadership race, the winner of which becomes premier because of the party's majority in parliament's lower house.
DPJ voter support has sunk as it struggled to implement policies in the face of internal feuds and an opposition able to block bills in the upper house.
Maehara and Noda have both floated the idea of a grand coalition with the main opposition Liberal Democratic Party (LDP) and its former partner, the New Komeito party, to break the legislative impasse. But both parties have been cool to the idea.
Kan pledged in June to step down to survive a no-confidence vote, but had not specified when. On Friday, he confirmed he would quit after parliament's upper house enacted two key bills -- one to let the government issue more debt and another to promote renewable energy.
© Copyright Thomson Reuters 2023. All rights reserved.