Japan Tests Starlink Satellite In Response To China's Threat, Highlight Critical Role In Ukraine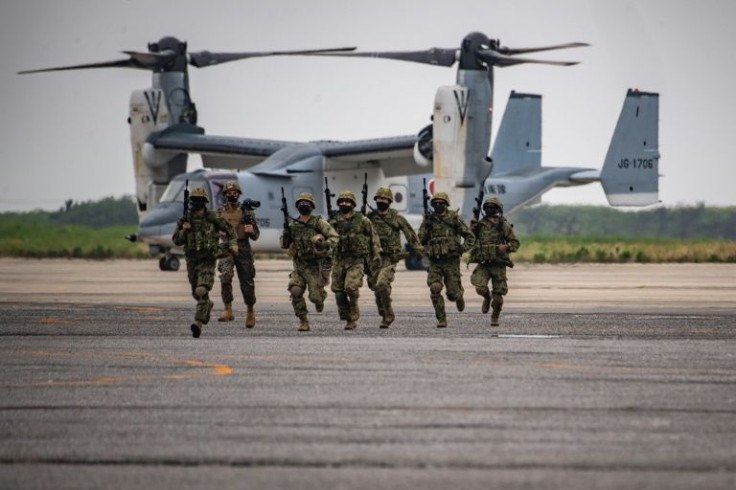 KEY POINTS
The Japanese Self-Defense Forces (SDF) have been conducting trials of SpaceX's Starlink satellite constellations
Reports revealed Pentagon has agreed to acquire Starlink satellite internet terminals for deployment in Ukraine
The Japanese military believes that both China and Russia possess ground-based jammers
The Japanese Self-Defense Forces (SDF) are currently conducting tests on Elon Musk's Starlink satellite network as part of their extensive military modernization efforts. This development comes after Ukraine began using the Starlink network a year ago, during Russia's invasion.
The SDF's decision to test the Starlink network highlights the growing recognition of its potential benefits in enhancing military communication and connectivity in the face of the growing threat from China.
The initial report regarding the Japanese Self-Defense Forces' testing of SpaceX's Starlink technology was published by The Yomiuri Shimbun, a prominent Japanese newspaper. The article highlighted that the deployment of Starlink would introduce a constellation of satellites in low Earth orbit, supplementing the existing communication satellites in geostationary orbit that are presently accessible to the Japanese Ministry of Defense. This expansion of satellite infrastructure signifies a significant step toward enhancing Japan's defense communication capabilities and leveraging advanced technology for military purposes.
Sources indicate that the Japanese Self-Defense Forces (SDF) have been conducting trials of SpaceX's Starlink satellite constellations since March of this year.
As part of an agreement signed between Japan's Defense Ministry and a representative of SpaceX, which operates Starlink, the Air, Ground, and Maritime Self-Defense Forces (SDF) will be equipped with Starlink antennas and other communication tools. This collaboration aims to enhance the SDF's communication capabilities by utilizing the services provided by Starlink. The SDF has already started using the Starlink service at approximately ten different sites, including bases and camps, to thoroughly assess its operational performance and identify any potential issues.
Currently, the Japanese Ministry of Defense possesses two X-band communication satellites positioned in geostationary orbit at an altitude of approximately 22,000 miles above the Earth's surface. These satellites have primarily been utilized by the Self-Defense Forces (SDF) for their communication needs. However, the ongoing trial run of Starlink marks the SDF's first experience with a low-orbit satellite constellation.
According to reports from Japanese media, the government is currently in discussions and negotiations with another company that offers a similar communication service. It is anticipated that an agreement with this company will be reached within the current fiscal year. As a result, Japan could potentially begin utilizing the high-speed Starlink communication network in the subsequent fiscal year.
In addition to considering the use of US-based military satellites like Starlink, the SDF is also exploring options from other nations for their communication needs. This decision comes at a time when Japan is actively pursuing military modernization efforts to address potential threats not only from China but also North Korea and Russia.
The Japanese military believes that both China and Russia possess ground-based jammers, which they have reportedly used on satellites belonging to other countries.
Reports reveal that the Pentagon has agreed to acquire Starlink satellite internet terminals from SpaceX for deployment in Ukraine.
"We continue to work with a range of global partners to ensure Ukraine has the satellite and communication capabilities they need. Satellite communications constitute a vital layer in Ukraine's overall communications network, and the department contracts with Starlink for services of this type," the Pentagon said.
© Copyright IBTimes 2023. All rights reserved.