Japanese Emperor Writes Chapter For Fish Encyclopedia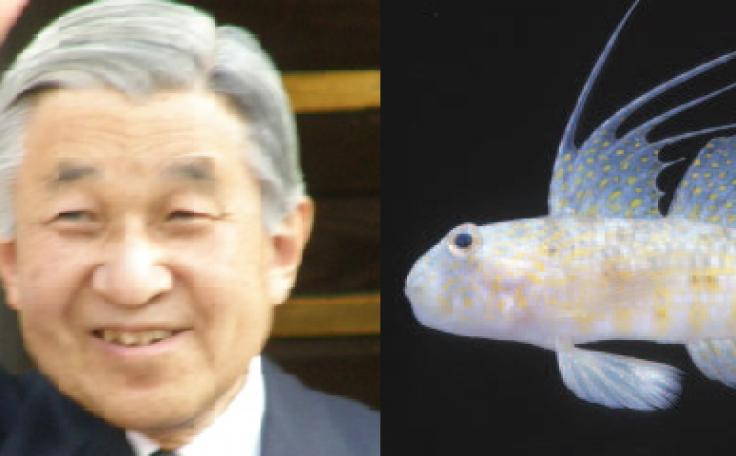 A new three-volume fish encyclopedia has nineteen authors, but one name stands out above the others: the Emperor of Japan.
Emperor Akihito contributed 350 pages (and several illustrations) on Gobioidei, a suborder of Japanese goby fish that includes 518 types, to the third edition of "Fishes of Japan with Pictorial Keys to the Species." Goby fish, a family that includes the mudskipper, are a particular specialty of the emperor; he has published a number of scientific papers on them (he has also written about the history of science in Japan).
"We are convinced that the book will present the precise status of fish species that inhabit Japan and the rest of East Asia and provide basic and valuable insight into biogeography, fisheries science and environmental protection studies," Kyoto University's Tetsuji Nakabo, the editor of the encyclopedia, said Monday, according to the Asahi Shimbun.
For his contributions to the encyclopedia, the emperor made use of the biological laboratory on the grounds of the Imperial Palace.
"Whenever a small ambiguity arose, His Majesty would say, 'Why not take a look at the specimens?' and scrutinize the real fish," Nakabo told the Asahi Shimbun. "And he would say, 'OK, that was it,' after making careful confirmations."
Akihito ascended to the Chrysanthemum Throne in 1989, and named his reign Heisei, or "achievement of peace." Like England's Prince Charles and Prince William, he broke with tradition and married a commoner.
Japan's constitution affords him little power beyond ceremonial duties, so Akihito has applied himself to other pursuits, including playing the cello and following his father Emperor Hirohito's passion for marine biology -- the late emperor was particularly interested in primitive sea creatures called marine hydrozoans. Akihito's brother, Prince Hitachi, also went into science, studying the role of cellular division in cancer.
Not all of Emperor Akihito's ichthyological pursuits have been successful. About 50 years ago, while he was still crown prince, Akihito undertook a study of bluegill fish, a U.S. species. Several specimens were given to the prince as a gift from the mayor of Chicago and were examined at a research facility to see if they had value as a food source. But the research facility lay near Japan's largest lake, Lake Biwa, and the bluegill escaped into the wild. Since then, they've been aggressive invaders, driving the Japanese royal bitterling to extinction and threatening other native species.
In 2007, the emperor said in remarks at a fishing and conservation meeting that he was "pained" by the unintended consequences of the experiment, according to BBC.
© Copyright IBTimes 2023. All rights reserved.