Japan's Mitsubishi Apologizes To American POWs Used For Forced Labor During World War II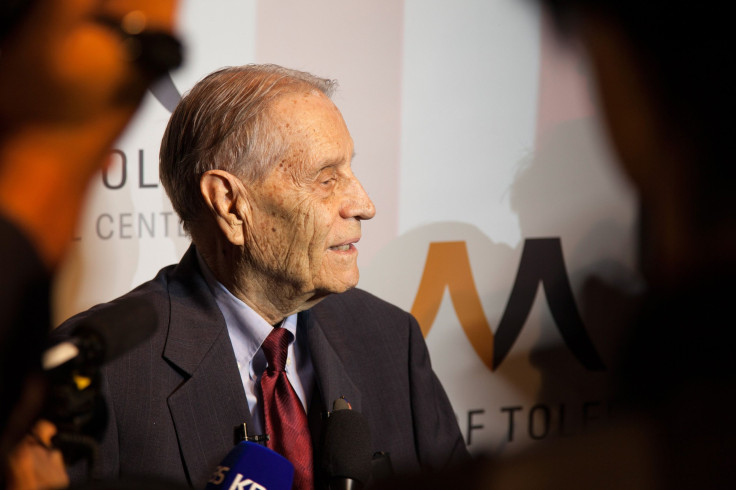 Top executives from Mitsubishi, the huge Japanese corporation, issued an apology Sunday for its use of forced labor from American prisoners of war during World War II. It was the first time that a Japanese company had expressed remorse for its actions during the conflict, years after Japan's government issued a similar apology.
Mitsubishi officials met with James Murphy, a 94-year-old former POW who was forced to work in the company's copper mines, as well as relatives of American POWs who endured similar treatment, the Associated Press reported. The formal apology took place at the Simon Wiesenthal Center's Museum of Tolerance in Los Angeles.
"I listened very carefully to Mr. Kimura's statement of apology and found it very, very sincere, humble and revealing," said Murphy, referring to Hikaru Kimura, one of the Mitsubishi executives who apologized, according to the BBC. "We hope that we can go ahead now and have a better understanding, a better friendship and closer ties with our ally, Japan."
Murphy was one of approximately 900 American prisoners of war who were forced to labor in one of the Mitsubishi Mining Co.'s four mines, the BBC noted. The Mitsubishi Mining Co. preceded Mitsubishi Materials, which is part of the Mitsubishi Group. Murphy worked at the company's copper mine near Hanawa, Japan.
Approximately 12,000 American POWs held in Japan were made to perform forced labor during World War II, about 10 percent of whom died while in captivity, the Associated Press reported. Altogether, the 27,500 U.S. POWs taken in the Pacific Theater suffered a 40 percent death rate. The Japanese government issued apologies to American prisoners of war in 2009 and 2010. But Mitsubishi's apology was the first by a Japanese corporation, according to those who set up the event.
"As far as I know, this is a piece of history," Rabbi Abraham Cooper, an associate dean at the Simon Wiesenthal Center, told the AP last week. "It's the first time a major Japanese company has ever made such a gesture. We hope this will spur other companies to join in and do the same."
© Copyright IBTimes 2022. All rights reserved.
FOLLOW MORE IBT NEWS ON THE BELOW CHANNELS