Javier 'Chicharito' Hernández Transfer News: Real Madrid Return On The Cards For Mexico Star?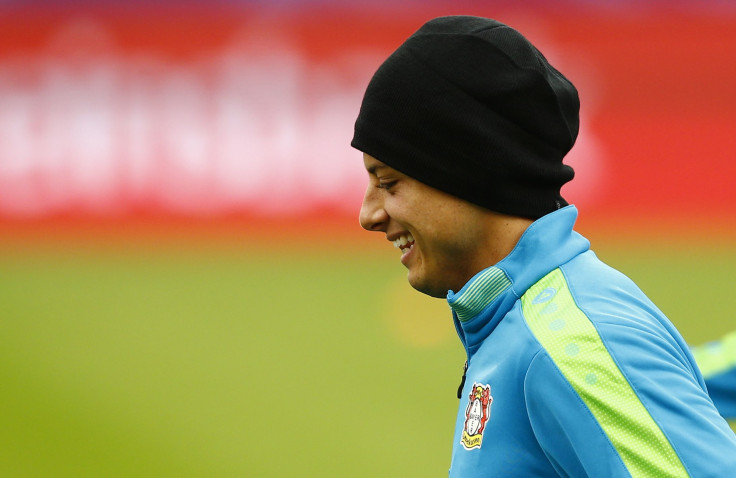 He may have endured a largely frustrating season at Real Madrid, more acquainted with the substitute's bench than the pitch, but Javier "Chicharito" Hernández is wanted back at the Santiago Bernabeu, according to a director of the Spanish club.
The Mexico striker spent a year on loan in Madrid from Manchester United two seasons ago. But, despite initially describing the move as a "dream," he began just 10 games in La Liga and the Champions League and at one point went six months without a start in the league. Hernández subsequently returned to Manchester United before being sold at the start of the following season to Bundesliga side Bayer Leverkusen.
The 28-year-old has proven a big hit in Germany, scoring 33 goals in 50 appearances for Leverkusen. And Real Madrid director Santiago Aguado has said the club would welcome a return for the penalty-box predator.
"For me, yes, I would like that," said Aguado. "We believe he is a great player."
On the same program, fellow Real Madrid director Manuel Cerezo spoke similarly kindly of Hernández.
"Chicharito did not fully succeed at Real Madrid," Cerezo said. "But players need time to adapt – at Madrid you can't do it overnight. He had a chance to go to Bayer and is doing very well there."
Despite those comments, it is difficult to envisage Hernández again turning out in Real Madrid white. While Hernández had some good moments at Madrid later in the season, including scoring a late winner against Atlético Madrid in the Champions League quarterfinals, he also outlined his frustration at the situation he found himself in at the club.
Having seen his playing time increasingly limited after a hugely impressive start to his Manchester United career, the last thing he need was to go to another club where he wasn't a regular in the lineup. The vigor with which he previously played, eagerly snatching any half-chance that fell his way in the penalty box, had begun to fade. It all meant that at the 2014 World Cup Hernández found himself out of the starting lineup for his country.
But he has shown at Leverkusen that the problem was not of diminishing ability but that he simply needed a coach to put full faith in him. At Bayer Leverkusen, coach Roger Schmidt has made him his first-choice striker, and Hernández has repaid him with a 26-goal debut season and a prolific start to this campaign.
Such has been his form that there was plenty of speculation that Hernández would be on the move again this past summer, with a return to the Premier League mooted. However, it may be that Hernández is currently in the perfect place to flourish.
At a true giant like Real Madrid, where Hernández was competing for a place with the likes of Cristiano Ronaldo, Gareth Bale and Karim Benzema, and with Alvaro Morata since added to the mix, Hernández may never get the playing time he needs. But at a slight level below, he can continue to star for club and country.
© Copyright IBTimes 2023. All rights reserved.