Javier 'Chicharito' Hernández News: After 100th Goal, Is Striker The Greatest Mexican Player To Compete In Europe?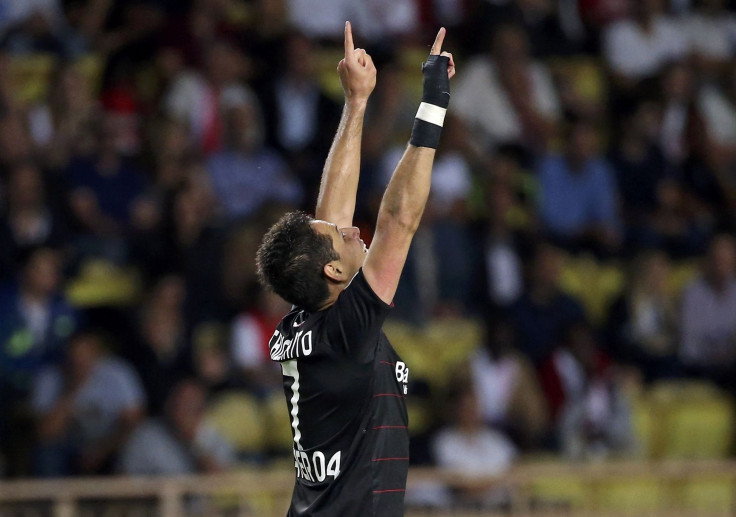 It has not always been plain sailing, but on Tuesday Javier "Chicharito" Hernández had much to smile about regarding his European career. The Mexico star found the net in Monaco with a trademark effort to not only grab Bayer Leverkusen a precious Champions League point but his 100th goal for European clubs.
Leverkusen is likely not where the 28-year-old would have expected to be in 2016 when he completed a transfer to Manchester United just ahead of the 2010 World Cup. It is certainly not where he would have envisaged his career taking him after a sensational first season at Old Trafford. Fresh from boyhood club Chivas, Hernández struck 20 goals in that debut campaign, with his movement in the box and supreme poaching skills catching the eye and seemingly laying the groundwork for a flourishing career at one of the world's biggest clubs.
That never quite happened as planned, with the arrival of Robin van Persie in 2012 increasingly putting the eagle-eyed Hernández in the pigeon-hole of a super-sub rather than a consistent starter. After just nine Premier League starts in Sir Alex Ferguson's final season in charge and only six in David Moyes' single campaign at the helm, Louis van Gaal decided he had no use for the predator extraordinaire.
It didn't look all bad. Hernández secured what he described as a "dream" loan move to another of soccer's superpowers in Real Madrid. Yet he was to remain more acquainted with the substitute's bench than the pitch in the Spanish capital.
Finding himself entrenched below Cristiano Ronaldo, Karim Benzema and Gareth Bale in the pecking order, he only made seven league starts for Madrid. However, he would still show his quality when given more opportunities late in the season, finishing the campaign with seven La Liga goals as well as a dramatic winner against Atlético Madrid in the Champions League quarterfinals.
It was, though, time for a change. While playing for clubs of the caliber of Manchester United and Real Madrid had been a dream, it was regular minutes he now needed, particularly having lost his starting role for El Tri at the 2014 World Cup. A move to Bundesliga side Bayer Leverkusen may not have been the first place many expected him to go, but the decision has played spectacular dividends for both player and team.
Last season was the first in which Hernández started more than half his club's league games during his time in Europe. With 17 Bundesliga goals and a further five in the Champions League, he made an instant impression. Given a regular role and the faith of his coach, Hernández showed his instincts in front of goal remain as sharp as ever.
"I am playing more, I am making more minutes," Hernández told Spanish outlet El Pais this week. "I got very few opportunities at Madrid. It was very difficult for me. I hardly got any game time during the first half of my time there. I repaid the faith shown in me during the second bit of my spell at Madrid.
"At Manchester United, meanwhile, I had the fourth-best goal-per-minutes ratio in the history of the Premier League. That's why I think the only reason things are going so well for me at Bayer Leverkusen is that I get regular first-team football now.
"I do not miss Spain to be honest. I miss my loved ones who are living in Mexico. But I have been relatively happy everywhere I lived. I am very happy in Germany now. And when things go well on the pitch, everything else goes much easier as well."
Whether or not Hernández is ever the leading striker for a true Champions League contender is doubtful, but what is harder to question is that his move to Europe has been a success. And his record means he has few equals in the annals of Mexicans in Europe.
Chicharito just hit an impressive milestone in Europe. https://t.co/dfetJfzLdl

— AtTheBuzzer (@TheBuzzerOnFOX) September 27, 2016
He has already eclipsed the achievements of contemporaries Giovani dos Santos and Carlos Vela. His record in Europe is also far more impressive than that of the only man to have scored more goals for Mexico than Hernández, Jared Borgetti, who had just one season overseas with Premier League club Bolton Wanderers.
Indeed, only two men can claim to rival what Hernández has achieved on the continent that has become the home to the world's best players. Rafa Márquez, along with four years and a title in at Monaco, was a key part of the Barcelona team that won Champions League crowns in 2006 and 2009.
But still standing some way clear as Mexico's greatest ever export to Europe is a man who made his name with Barcelona's eternal rivals Real Madrid. While he never got his hands on the European Cup, Hugo Sánchez won almost everything else and etched his name among the greatest strikers in the club's history.
Already having been La Liga's top scorer at Atlético Madrid, between 1985 and 1992 Sanchez scored 208 goals for Real Madrid, finished as La Liga's top scorer four times, won five consecutive La Liga titles and the UEFA Cup.
Hernández is unlikely to match those accolades, but in becoming the only other Mexican to reach 100 goals in Europe he has joined the most elite of company.
© Copyright IBTimes 2023. All rights reserved.