Jaylen Brown Could Be Boston Celtics' Pawn To Acquire Kevin Durant
KEY POINTS
Jaylen Brown has been tagged in the Kevin Durant trade discussions
The Celtics' front office is reportedly considering the idea of dangling Brown
The Celtics could be in for an interesting campaign next season
The Boston Celtics have an interest in Kevin Durant, but the only way to acquire the 2014 NBA MVP is if they can give up some of their stars.
Initially, it was revealed that the Brooklyn Nets wanted Jayson Tatum and Jaylen Brown to seal a deal involving Durant.
But of the two, Tatum was obviously someone Boston is not keen on letting go of.
According to a source in a report by Adam Himmelsbach of the Boston Globe, Tatum and Brown were the ones that Brooklyn took interest in.
However, this proposal went nowhere and the attention was tweaked with the focus diverted to Brown, Marcus Smart and a huge haul of future picks.
But even with that shift in attention, the Celtics remained uninterested and likely a reason why Durant may never head to Bean Town for now.
Moving forward, there could be ramifications from the alleged proposals.
At the top of the list is Brown, who could take it against Boston for even considering dealing him away to the Nets.
Aware that this would be the next center of attention, league sources claim that Celtics president of basketball operations Brad Stevens and head coach Ime Udoka have been constantly communicating with the 25-year-old swingman.
Per NBC Sports, Brown allegedly understands the entire situation.
The Celtics surprised many fans and pundits last season when they made it to the NBA Finals.
Although they did not go home with the Larry O'Brien trophy, it will be interesting if the aspired moves of the Celtics to acquire Durant from the Nets will make or break their upcoming campaign.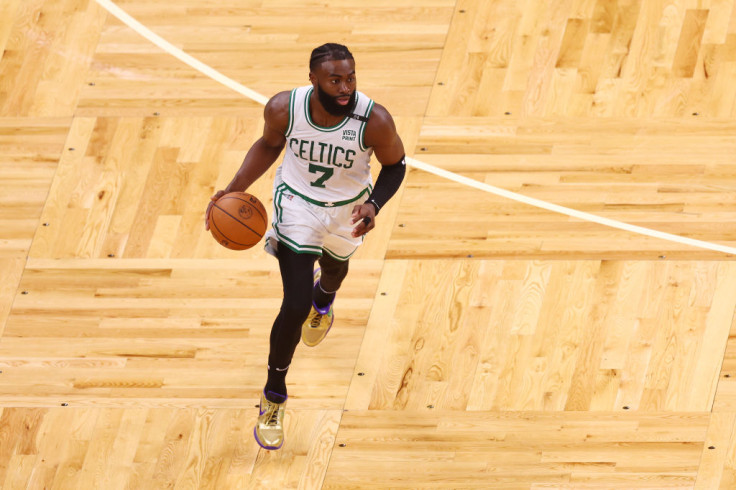 © Copyright IBTimes 2023. All rights reserved.