Jimmer Fredette News: Former BYU Star Tearing Up D-League As He Works Towards NBA Contract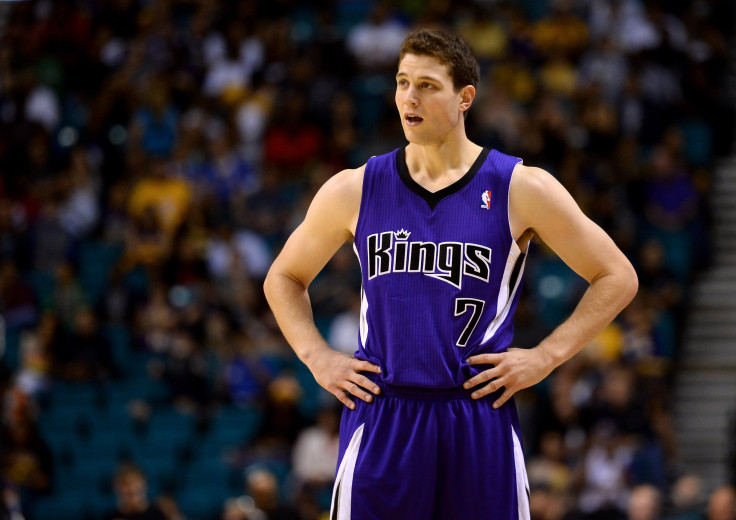 Jimmer Fredette hasn't been back in the NBA D-League for long, but he quickly picked up where he left off. After a short stint with the New York Knicks, the former first-round draft pick is back to dominating basketball's minor leagues as he works towards having another chance at a return in the NBA.
Prior to signing a 10-day contract with the New York Knicks on Feb. 22, Fredette was averaging 21.8 points, 4.8 assists and 4.6 rebounds per game with the D-League's Westchester Knicks. He scored 12 points in his first game back on March 6, and he's strung together four consecutive games of at least 20 points since then.
Fredette's most recent game was his best. In a 113-95 victory over the Erie Bayhawks, Fredette led the Knicks with 26 points, eight rebounds and five assists. The Knicks outscored the opposition by 26 points when Fredette was on the court.
After spending most of the year out of the NBA, aside from a brief four-game stint with the New Orleans Pelicans in November, Fredette had been hopeful that his 10-day contract would be his ticket to a permanent spot on the roster. Lance Thomas and Langston Galloway have been two of New York's biggest contributors off the bench this season, and they both became fixtures in the team's rotation after signing consecutive 10-day contracts a year ago.
But Fredette didn't get much of a chance to show what he could do in the Big Apple. He appeared in just two games, playing a total of five minutes. Knicks interim head coach Kurt Rambis has been criticized for relying too heavily on the team's established veterans, meaning less playing time for rookies and players like Fredette. The combo guard made his only official field goal attempt, a three-pointer, and he went four-of-five from the free throw line in his last game with New York.
Jimmer Fredette Career Stats | PointAfter
Before the Knicks called up Fredette last month, his agents had reportedly been in contact with other teams besides the Knicks.
"I feel I've definitely proven I can still play and provide something for a team out there," Fredette told The New York Post a few days after being named the D-League All-Star Game MVP on Feb. 13. "I've shown that. And I'm definitely confident if I do get an opportunity, I'll be able to produce. The D-League has helped me to get better and develop as a basketball player. I hope there'll be a team that takes notice and gives me a chance."
Fredette made a name for himself five years ago, leading the BYU Cougars to two wins in the 2011 NCAA Tournament. BYU finished the season with an impressive 32-5 record, as Fredette shot 39.6 percent from three-point range.
Leading the nation in scoring as a senior, Fredette was selected by the Sacramento Kings No.10 overall in the 2011 NBA Draft. His best season came in 2012-2013 when he averaged 7.2 points per game on 41.7 percent shooting from three-point range, but he never saw much playing time after the Kings traded him to the Chicago Bulls in 2014.
Fredette is known for his superior shooting ability, and he's made 41.9 percent of his shots from behind the arc in the D-League. Last season, however, he connected on just nine of his 48 three-point attempts.
© Copyright IBTimes 2023. All rights reserved.