Jiroemon Kimura: Oldest Man In Recorded History Dies As Japan's Faces Aging Demographic Crisis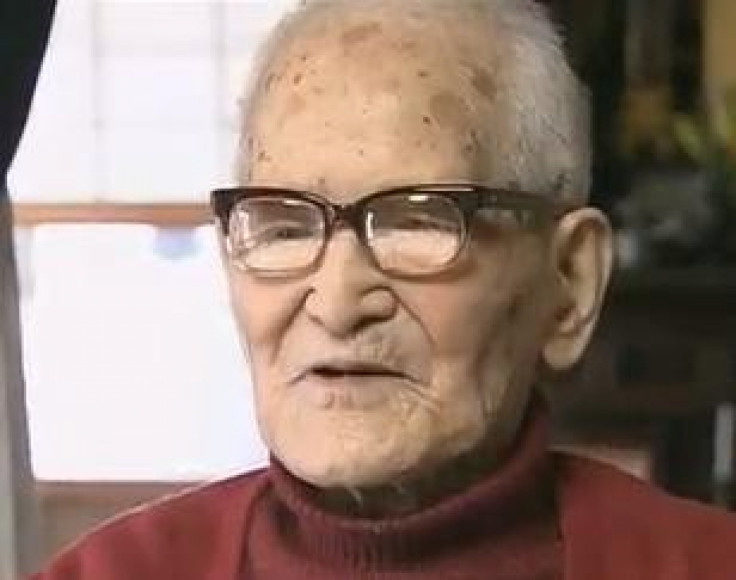 Jiroemon Kimura, a Japanese man widely recognized as the longest-living man in recorded history, has died at the age of 116 in Kyotango city in Kyoto prefecture, of natural causes, in a hospital, according to local government officials. The Guinness World Records verified last December that no one has ever lived longer than Kimura.
BBC reported that he left behind seven children, 14 grandchildren, 25 great-grandchildren, and 13 great-great-grandchildren. He worked as a postal employee until retiring but remained active into his early 90s, helping his son tend a farm. He was feted in April for his 116th birthday by Japan's Prime Minister Shinzo Abe in a video message.
"Maybe it's all thanks to the sun above me," Kimura said in an interview last year when he was a sprightly 115. "I am always looking up towards the sky, that is how I am."
With Kimura's passing, the world's oldest living person now is believed to be another Japanese person, a woman named Misao Okawa, from Osaka, who is 115 years old. The fact that two of the oldest people on the planet are both Japanese is not a coincidence.
Indeed, Kimura's hometown boasts 95 people who are at least 100 years old -- in a city with a population of only 60,000. As such, city officials want to launch a research project on why its natives live so long. "We would like to research the eating habits of not only Mr. Kimura but also about 50 other old people over 100 years old in the city," the official told Agence France Presse. "We are interested in what they eat and how much. We are especially keen to research how much salt they consume. We are also interested in knowing what kinds of local food they like to eat and if this helps them live so long."
Indeed, experts believe diet is key to Japanese longevity. The average Japanese person consumes 86.2 grams of fat a day versus 155.4 grams for the average American, according to ABC News. "I think Japanese food is very good compared with United States, because we don't eat much meat and we don't eat much sugar," professor Takako Sodei, who teaches gerontology at Ochanomizu University in Tokyo, said.
But there is also a dark side to Japan's large number of centenarians: The overall population is rapidly aging, and the birth rate is falling to dangerous levels, posing troubling questions about the country's future. The government recently warned that Japan's population dropped by a record 284,000 (or 0.22 percent) to 127.515 million as of last Oct. 1, while people age 65 or older passed the 30 million mark for the first time ever. People age 65 or older now account for almost one-fourth (24.1 percent) of the population, a new all-time record.
Meanwhile, the number of youths under the age of 14 fell to a record low of 13 percent of the population. These trends have been going on for decades. It is estimated that by 2055, 40 percent of the Japanese population will be age 65 or above and most of them will not be working.
Put another way, Japan has too many nonworking elderly people and too few people of working age to support them. As this discrepancy widens in the coming years, the costs of taking care of the aged will become an ever-greater burden on the already overburdened Japanese of prime working age.
"We have never seen a country of the size and importance of Japan face these kinds of demographic issues before," said Dr. Stephen Bronars, Ph.D., a Washington, D.C., senior economist with labor and employment consultancy Welch Consulting. It is also believed that Japan's workforce will be cut by 18 percent by 2030.
"It's not just that the overall population of Japan will decline; the crucial issue is that the size of the labor force relative to the overall population will decline," Bronars said. Japan's average life expectancy is already the highest in the world -- as of 2008, it was 86.1 years for women and 79.3 years for men.
European nations like Germany, Italy and Spain (and even the U.S.) are experiencing similar aging demographic woes, but these countries allow relatively high numbers of immigrants to sustain and replenish their labor forces. By contrast, it is estimated that less than 2 percent of Japan's population is currently foreign-born.
© Copyright IBTimes 2022. All rights reserved.
FOLLOW MORE IBT NEWS ON THE BELOW CHANNELS