Jo Cox False Flag Conspiracy Theories Swirl On Twitter As 'Brexit' Vote Looms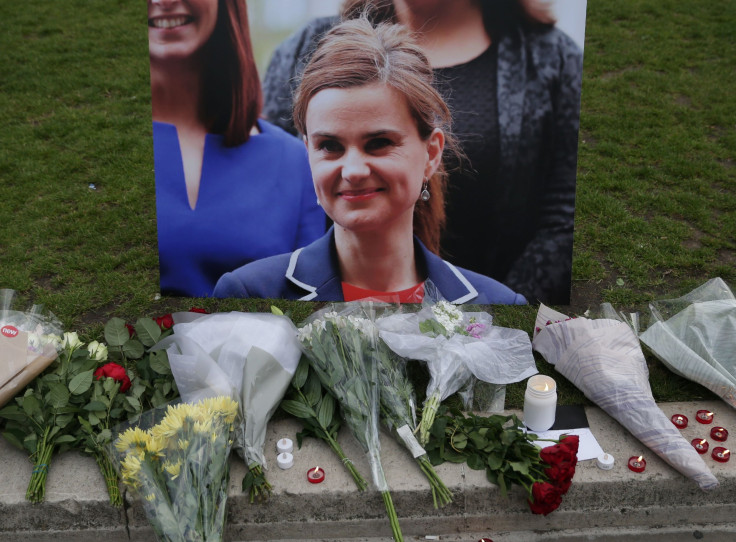 The timing of the cold-blooded murder of liberal British lawmaker Jo Cox, as she was going to a meeting with constituents Thursday, has led to a flurry of social-media chatter claiming Cox's killing was plotted by forces seeking to sway next week's referendum in favor of Britain remaining in the European Union.
Cox was stabbed and shot, allegedly by a right-wing loner. But some supporters of a British exit from the EU are spreading a conspiracy theory that the suspect, identified as Thomas Mair, 52, is a patsy of pro-EU forces, and that Cox's murder is a "false flag" aimed at portraying the British right as unhinged and dangerous.
This view has been widely circulating on social media and underscores the increasingly heated debate over Britain's future in the EU. Much like American voters who have rallied behind presumptive Republican presidential candidate Donald Trump, supporters of the so-called Brexit tend to be immigrant-wary nationalists who are dissatisfied with establishment politicians.
On Thursday, an Ipsos MORI poll published in London's Evening Standard showed supporters of a British exit leading opponents, 53 percent to 47 percent. This led some to speculate that Cox's death was planned to dissuade Brexit supporters.
Mair, who was in custody, is believed to have both mental health issues and right-wing political leanings. Witnesses claim he shouted "Britain First!," the name of an ultra-right nationalist group, as he attacked Cox in her North-Central England constituency. Cox's district has a sizable population of British-born and immigrant Muslims with roots in Pakistan and the northeastern Indian state of Gujarat.
Cox, a 41-year-old member of Parliament for the Labour Party, was a former humanitarian worker who was widely regarded as a rising star on Britain's political left. She also was an advocate for Syrian refugees and was actively advocating for Britain to remain in the EU.
On Thursday, countless posts were circulating on Twitter and Facebook suggesting Cox was sacrificed by pro-EU forces. In most cases the posts don't specifically name the architects accused of allegedly recruiting someone to kill Cox. Also in most cases, no alleged conspirators are named and in some they're simply called members of the "left wing" or "Globalists" or the "anti-Brexit" movement. One post even accused the Bilderberg Group, the alliance of global business and political figures that is a common target of left-wing and right-wing conspiracy theories, of orchestrating the murder.
Clearly it's easy to find just about any theory being promoted on social media, and the number of people condemning the Jo Cox "false flag" conspiracy were outnumbering the posts supporting the theory. But the dialogue shows just how divided Britons are with just seven days before the momentous Brexit referendum.
© Copyright IBTimes 2023. All rights reserved.
FOLLOW MORE IBT NEWS ON THE BELOW CHANNELS