Joba Chamberlain Has Surgery, May Miss Entire Season for Yankees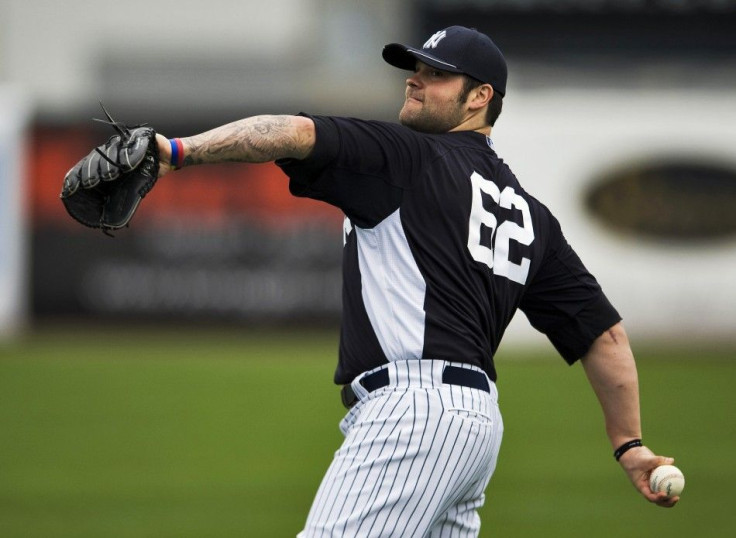 When he was first brought up to the Major Leagues, Joba Chamberlain's future looked as bright as any player in baseball.
In 2007, the Yankees reliever had a 0.38 ERA and 34 strikeouts in 24 innings pitched. At 22 years old, he was one of the best young pitchers in the game.
Unfortunately for Chamberlain, it was all downhill from there.
Chamberlain underwent Tommy John surgery last year and missed most of the 2011 Season. He was making progress towards getting back on the field, and the Yankees had expected him to be ready by June.
Now, Chamberlain is injured once again.
Chamberlain suffered an open dislocation in his right ankle while playing on a with trampoline his son, according to Yankees General Manager Brian Cashman. The pitcher had surgery Thursday night and will be in the hospital for several days.
Cashman says the injury is a significant one. Chamberlain's original target date of June seems to be in a lot of jeopardy. The general manager wouldn't put a time frame on Chamberlain's return, and sounded very discouraged about the injury.
When asked if the injury could end Chamberlain's career, Cashman didn't rule out the possibility.
I'd like to say no. My heart and my gut tell me no, responded Cashman.
Chamberlain has struggled to match his performance from his rookie season. After a dominating first year, the Yankees had trouble deciding whether or not to keep him in the bullpen, or put him in the rotation.
New York moved him from relief pitcher to starter, then back to relief pitcher on multiple occasions during the 2008 and 2009 seasons. In 2010, New York decided to make him a reliever for good after he had trouble in the rotation.
Chamberlain is 20-13 with a 3.70 ERA for his career.
© Copyright IBTimes 2023. All rights reserved.