Jobs Report January 2015: US Economy Added 257,000 Jobs Last Month, Unemployment Rate Ticks Up To 5.7%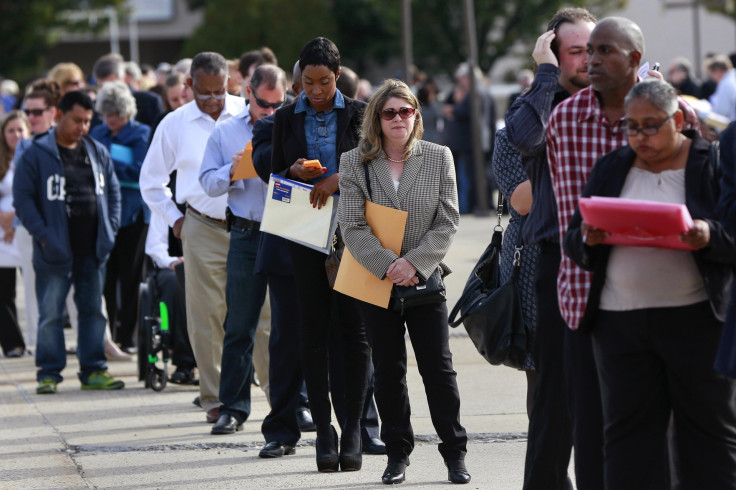 U.S. employers added 257,000 jobs in January, and the unemployment rate ticked up to 5.7 percent from 5.6 percent the previous month, the Labor Department said Friday. The January jobs report marked the longest stretch of job gains above the 200,000 level since 1994. Economists polled by Thomson Reuters had expected net job growth of 234,000 last month.
"Given the strong employment growth, the uptick in the unemployment rate is mostly noise in the data, which will be followed by rapid declines in the months ahead," Gad Levanon, managing director at the Conference Board, said in a research note after the release of the jobs report.
In December, the economy added a net 329,000 jobs, more than economists had expected and an upward revision from the 252,000 jobs initially reported last month.
Meanwhile, November's job gains were also upwardly revised, to 423,000 from an initially reported 353,000. Monthly job gains averaged 336,000 during the past three months.
The average hourly earnings for private-sector workers increased by 12 cents, to $24.75, after decreasing by 5 cents, to $24.57, in December.
The healthy jobs growth in the economy won't matter to a significant proportion of Americans. For most workers, real wages have fallen or remained flat since the 1970s. Many Americans with part-time jobs want to work full time, and nearly two-thirds who are able to work have dropped out of the labor force, the highest proportion opting out of work since the 1970s. The labor-force participation rate edged up by 0.2 percentage point, to 62.9 percent.
"The recovery in the average hourly earnings in January aligns it better with the employment cost index, released last week, which shows modest acceleration in wages. As the labor market continues to tighten, we expect to see acceleration in wage growth in 2015," the Conference Board's Levanon said.
The number of Americans who have been out of work for 27 weeks or longer was essentially unchanged last month, at 2.8 million, or 31.9 percent of the unemployed. During the past 12 months, the number of long-term unemployed is down by 828,000.
© Copyright IBTimes 2023. All rights reserved.