Joe Biden And Mexican President Enrique Peña Nieto Bond Over Pemex, Ignore NSA Espionage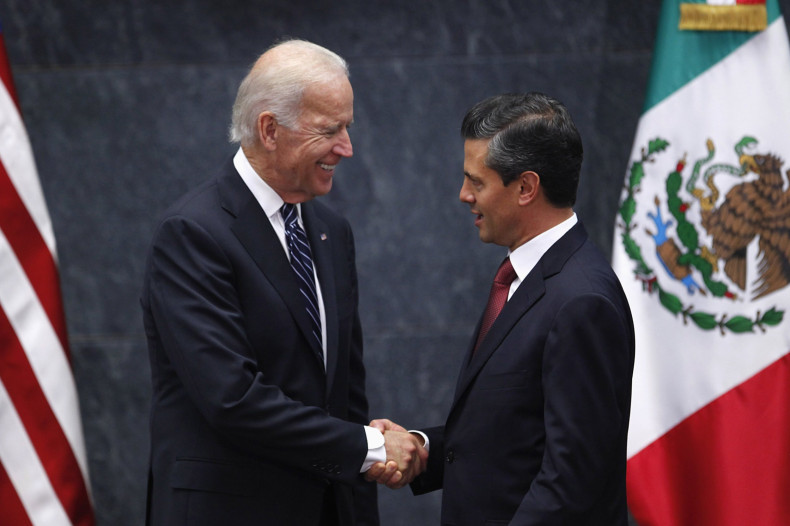 The continuation of a beautiful friendship? Mexico and the U.S. expressed renewed optimism about their alliance, with a common goal -- making the North American continent the center of global economy in the 21st century, through common interests and trade integration. That's what U.S. Vice President Joe Biden and Mexico's President Enrique Peña Nieto said after their meeting on Friday, in which Biden praised the reformist approach of Peña Nieto's administration.
"There is no relationship we value more, no relationship with more promise [than Mexico] or a region in the world with more opportunities than North America to generate growth in the next 20 or 30 years," said Biden, remembering that next year will be the 20th anniversary of the North American Free Trade Agreement.
The U.S. vice president also praised the slew of reforms that have been proposed by Peña Nieto in the past few months, including the energy reform that opens state-owned oil giant Pemex to private investors, and financial reform. Biden said he was "impressed by the proposals, which go beyond parties' disagreements," and also made a point of reassuring there would be no interference: "It is for Mexicans, and them only, to make these decisions. We are willing to help as much as we can, if asked to do so."
The two countries vowed to work together towards the modernization of their common border, to make it easier for goods, information and people to go through. Every day, 70 percent of the trade between both countries -- which reached $500 billion in 2012, according to the U.S. Census Bureau -- goes through the Río Grande. Mexico is the third trade partner of the U.S., after Canada and China.
The two leaders also opened the way for a more fluid movement of people between both countries. They established the Bilateral Forum of Higher Education, which aims to promote the exchange between college students in both countries. Immigration reform in the U.S. is stuck in Congress, where the Republican-controlled House is reluctant to take up the bill passed by the Democratic-majority Senate. Biden said a reform of immigration law would take 11 million undocumented immigrants in the U.S. -- about 6 million are Mexican -- "out of the shadows."
Some issues were left out of the conversation, though. There was no mention of weapons or drug trafficking, and both leaders kept mute about the NSA espionage scandal (among the revelations by leaker Edward Snowden there was the U.S. spying on Peña Nieto even before he was president). Contrary to Brazilian President Dilma Rousseff, who in response to being spied canceled her upcoming visit to the U.S., the Mexican leader dismissed the matter. "President Barack Obama is going to look into the issue," was all Peña Nieto said.