Joe Biden Mocks Ben Carson: 'Hard To Fathom' Doctor's Views On Gays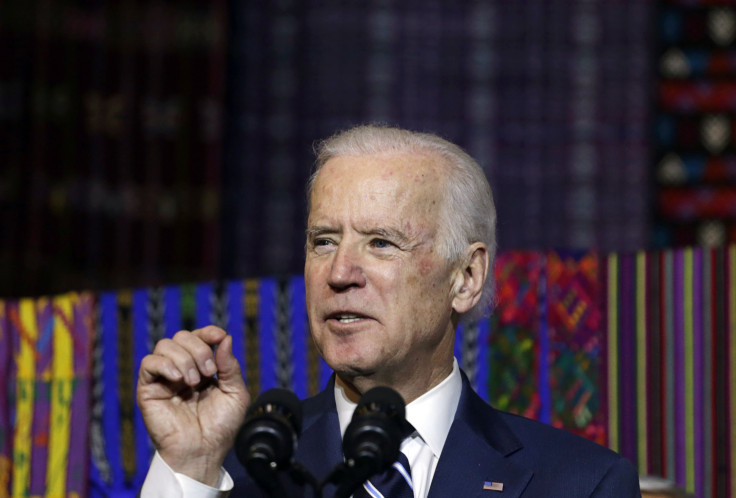 Vice President Joe Biden got tongue-tied Friday when he tried to explain potential Republican presidential candidate Ben Carson's recent comments on homosexuality, during a conference of the Human Rights Campaign, a gay rights group in Washington. In a CNN interview that aired earlier this week, Carson said that being gay is "absolutely" a choice, and is one that some people make while they are incarcerated. "A lot of people who go into prison go into prison straight —and when they come out, they're gay. So, did something happen while they were in there? Ask yourself that question," he said.
Biden told conference attendees he wasn't sure how to respond to Carson, a renowned neurosurgeon who recently announced a presidential exploratory committee. "Every ridiculous assertion from Dr. Carson on — I mean Jesus, God," said the vice president, according to a MSNBC report. "Oh God. I mean, it's kind of hard to fathom, isn't it?"
Carson faced significant backlash for his views and has apologized for his comments, saying he "deeply" regretted stating that homosexuality was a choice. Biden pointed to the swift reaction as a sign of progress for rights in the lesbian, gay, bisexual and transgender community. "That wouldn't have happened two years ago, five years ago," he said.
Biden, too, is considering a White House run in 2016. That might put him up against likely Democratic front-runner Hillary Clinton, the former U.S. secretary of state. On LGBT rights, Biden made news in 2012 when he came out in support of same-sex marriage before President Barack Obama did. Biden also referenced the incident Friday, saying, "I told the president I wasn't going to change my brand" when he took the job of vice president.
© Copyright IBTimes 2022. All rights reserved.
FOLLOW MORE IBT NEWS ON THE BELOW CHANNELS