John Cena Reveals This WWE Legend Intimated Him 2 Decades Ago [Details]
KEY POINTS
John Cena is set to complete 20 years with the WWE Company
He lost his debut fight that was against Kurt Angle
Cena is set to return on RAW later this month
Former WWE champion John Cena has revealed he was intimidated by The Undertaker at the beginning of his career in the company.
Even though Cena is not a regular face in the WWE Company, having migrated to the Hollywood industry, he remains one of the top superstars of the WWE of all time. The 16-time world champion has been involved in many high-profile feuds with the likes of Kurt Angle, The Undertaker, Triple H, Edge, Brock Lesnar and Roman Reigns.
During his 20th anniversary celebration in the latest edition of WWE Playback, Cena spoke about his debut fight, saying everyone had congratulated him backstage following his debut. Recollecting the moment he was intimidated, Cena said The Undertaker, who was then WWE Champion, even shook hands with him.
Cena recalled that even though he was supposed to represent the "ruthless aggression" persona, he was still frightened by The Deadman backstage.
"Everybody's like 'hey man, you did really good, let's put it on tape. But here I am intimidated by The Undertaker. If I am aggressive and ruthless I wouldn't really be intimidated by anybody, right? And I might not ask to shake Kurt's hand or any of that. You know, here I am marveling at my own hand, 'cause The Undertaker shook my hand," said Cena, according to Sportskeeda.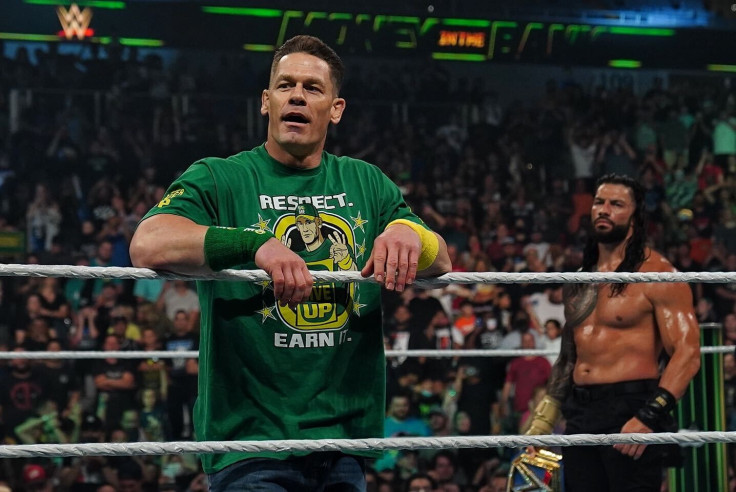 Cena, who has bagged the WWE Championship belt a record 13 times, is set to return to WWE Raw later this month. To celebrate his two decades with the WWE Company, Cena will appear on RAW on June 27 in Laredo, Texas, Wrestling Inc reported.
Reacting to the news, Cena tweeted, "Been far too long, and what a special occasion to be able spends with the WWE Universe. Laredo, TX, C U soon!!!"
Cena made his WWE debut in June 2002, when he was the only wrestler to respond to WWE Hall of Famer Kurt Angle's open challenge. He then put up a valiant effort against the Olympic Gold Medalist. Despite losing the battle, he looked to have possessed the abilities that eventually led to a long-term WWE career, which is considered one of the greatest in history to date.
© Copyright IBTimes 2023. All rights reserved.