John McCain to Endorse Mitt Romney in New Hampshire, Hates Rick Santorum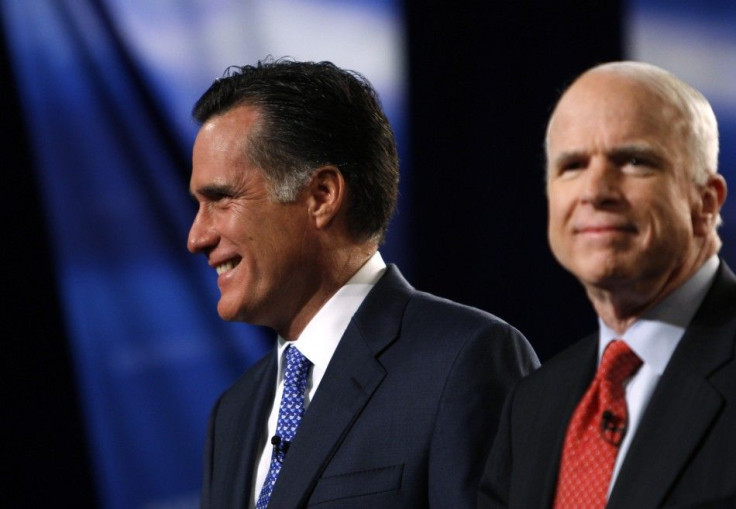 Arizona Senator John McCain is expected to endorse Mitt Romney in New Hampshire, a sign both of his faith in the GOP frontrunner and his distaste for new rival Rick Santorum.
According to sources within the Romney campaign and those close to the Arizona senator, McCain will travel with the Republican primary candidate to New Hampshire and announce support his one-time rival for the 2012 presidential nomination, reported the New York Times.
Endorsement a Big Win for Romney
The move will be a boost for Romney in New Hampshire, where McCain won the primary in 2000 and 2008, but is likely to help him more in the states to come.
The former Massachusetts governor already has a lead of 30 percentage points above next candidate Ron Paul in New Hampshire, a lead that is expected to hold for Jan. 10.
More so than the immediate benefit, however, John McCain's move to endorse Romney signals that Republicans should begin to fall in line behind the longtime frontrunner, who has kept a consistent but mediocre lead at around 20-25 percent this fall. McCain, even after his ignomious loss to Barack Obama in 2008, is still much-loved by Republicans, and is a favorite in New Hampshire.
And while Mitt Romney and John McCain were testy competitors for the 2008 presidential nomination, Rick Santorum's surge in Iowa seems to have tipped McCain firmly in favor of his one-time rival.
John McCain 'Hates' Rick Santorum
Rick Santorum came out of nowhere in the GOP primary race over the past month, and lost to Mitt Romney by only eight votes, a virtual tie. But if there's one Republican who'd rather see anyone but Santorum take the nomination, it's likely to be Senator John McCain.
Rumors of a rift between Senator John McCain and former Senator Rick Santorum have been brewing for years.
In 2008, Rick Santorum did everything in his power to derail the McCain campaign during the primary nomination and presidential election, appearing on conservative talk shows, cable news programs like Fox, and at rallies where he challenged McCain's conservative chops.
According to PoliticOlogy, which asserts that McCain hates Santorum, the pair continued to clash even as recently as May 2011, when Santorum claimed McCain, who was a prisoner of war in Vietnam, had a limited understanding of what constitutes torture.
Just this week, in fact, Rick Santorum defended his endorsement of rival Mitt Romney for the presidency back in 2008 by admitting he wanted to do whatever he could to ruin the senator's chances.
My focus in the 2008 election was on making sure we had someone other than John McCain, he told CNN during the last push in Iowa.
I didn't think he'd be the best candidate for us to do the things that were necessary for this country. And so, my principle purpose, I said this from the very beginning, was to wait and see who was the best able to beat John McCain when the time came.
Romney 'Pleased' by McCain Endorsement
All told, that's plenty of reasons for John McCain not to endorse Rick Santorum, and to do everything in his power to secure one-time rival Mitt Romney the Republican nomination.
When asked about the likely McCain endorsement, Mitt Romney said he would be pleased to accept the senator's endorsement.
John McCain of course is beloved in many parts of the country, particularly New Hampshire, Romney told Fox News. Some call him Mr. New Hampshire.
Mitt Romney, however, continued to play it coy. If, in fact, he makes an announcement today, that would be big for me in a state he knows very, very well.
© Copyright IBTimes 2023. All rights reserved.