Joyce Mitchell Sentencing: Employee Who Helped New York Killers Escape Gets Prison Time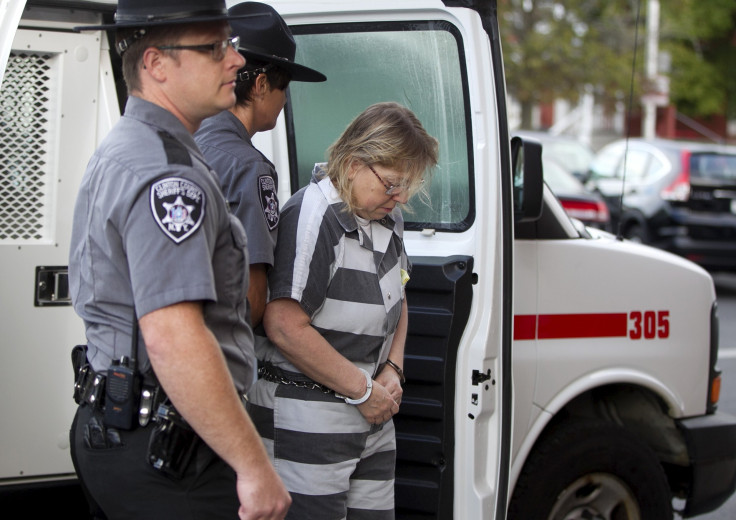 Joyce Mitchell, the prison employee who helped two convicted killers escape from their cells in June in a maximum security prison in Dannemora, New York, was sentenced Monday to an indeterminate period of two and one third to seven years in prison, as well as more than $6,000 in fines. She plead guilty in July to the felony of promoting prison contraband and the misdemeanor of facilitating criminal activity.
"If I could take it all back, I would," Mitchell, 51, said tearfully during a brief statement at the hearing prior to her sentencing. "This is by far the worst mistake I have ever made in my life," she said, reading from a yellow piece of paper she pulled and unfolded from the chest pocket of her striped black and white jail suit. "I live with regret every day and will for the rest of my life," she added, frequently stopping to wipe her eyes with a tissue.
She breathed heavily between quiet sobs, apologizing to the community, her family, other families and others affected by her actions. "I am still trying to understand why I made the choices I did," she said, adding that she simply wanted to go home to her family.
Mitchell had been a tailor in the prison who smuggled hacksaw blades, drill bits and other materials to inmates and convicted murders David Sweat and Richard Matt that aided in their escape from Clinton Correctional Facility in upstate New York June 6. She also allegedly planned to serve as their getaway driver once they were out of the prison, but ultimately did not, reportedly suffering from a panic attack instead and checking herself into a hospital. She later said she feared that the inmates would have killed her had she met them.
Sweat and Matt spent three weeks on the loose in the woods of upstate New York before authorities caught them, shooting and killing Matt and capturing Sweat alive. They had managed to tunnel out of their cells by relying in part on the materials provided by Mitchell, who also said she had had sexual contact with Matt, who made her "feel special."
In response to Mitchell's statement, the judge took note of her record of steady employment and attainment of a GED. But, he added, "you did terrible things." He noted the damage her actions have caused, pointing to nearly $23 million in overtime costs for the manhunt and the "incalculable" human toll she had wrought.
By pleading guilty, Mitchell avoided potential additional charges for allegedly plotting with the inmates to kill her husband, also an employee at the prison. She was highly cooperative with authorities, Clinton County District Attorney Andrew Wylie told CNN after Mitchell's arrest in June. She "comes in and each day has been providing ... additional information that's assisted investigators," Wylie told Anderson Cooper.
Another employee at the prison, a guard named Gene Palmer, reportedly unknowingly aided in the escape by giving the prisoners the frozen meat in which Mitchell had stashed hacksaw blades, pleaded not guilty to promoting prison contraband.
Sweat is being kept in a solitary cell made of 5-inch concrete and reinforced steel in a prison in New York, the Times Union reported.
© Copyright IBTimes 2023. All rights reserved.