Julia Gillard Menu: 'Small Breasts, Huge Thighs' And What?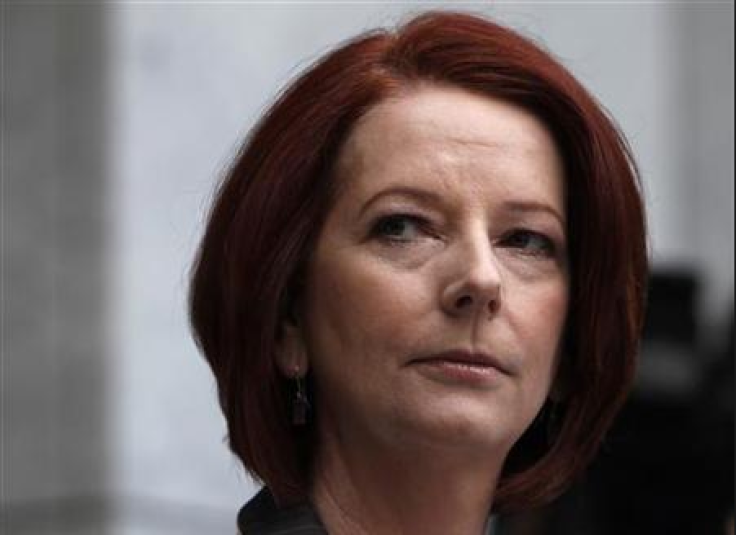 Prime Minister of Australia Julia Gillard is furious after a crude, sexist menu was apparently distributed at a Liberal Party fundraiser for Mal Brough. The supposed "mock menu," which lives on the Internet, contained an item called" Julia Gillard Kentucky Fried Quail Egg-- small breasts, huge thighs" and another description that should not be mentioned.
Restaurant owner Joe Richards has taken credit for the offensive menu. "I created a mock menu myself as a light-hearted joke, however as I said I never produced them for public distribution," he said in an email quoted by the Guardian, where he apologized the Brough. "Unfortunately a staff member saw the mock menu, and unbeknownst to myself, posted it on their Facebook. It now appears that a third party for political reasons has distributed it, yet I can reassure you that no such menu was distributed on the night."
Opposition leader Tony Abbott condemns the "bad-taste" menu, but is asking for people to move on. He said he never meant for anyone to see the menu; in fact, it wasn't supposed to leave the kitchen.
He told Australia's Herald Sun:
"It wasn't seen by anyone at the event.
"It was never distributed to people at the event.
"It was a tacky joke that never made it out of the kitchen.
"I think now that we know the facts everyone can all move on."
But the prime minister isn't buying his excuse and believes it shows a complete "lack of respect." She was quoted by the Guardian as retorting: "Let's go through the pattern of behavior. Mr. Abbott personally has gone and stood next to signs that described me in a sexist way. We've had the Young Liberals hosting a function where jokes were cracked about the death of my father. And now, we have Mr. Brough and Mr. Hockey at a function with this grossly sexist and offensive menu on display," she said. "Join the dots."
© Copyright IBTimes 2023. All rights reserved.
FOLLOW MORE IBT NEWS ON THE BELOW CHANNELS