Juul CEO Apologizes For Youth Vaping 'Epidemic'
Juul Labs, Inc., the electronic cigarette company that controls over 40 percent of the market for e-cigarettes in the United States, is expressing regrets for whatever harm its product is causing American teens, and its role in the youth vaping epidemic sweeping the United States.
Juul CEO Kevin Burns claims that Juul, the most popular e-cigarette in the U.S., wasn't developed specifically for use by teenagers but to help adults quit smoking while getting their nicotine fix. Juul, however, has become an unexpected hit among American teens that mistakenly consider it safer than smoking traditional tobacco cigarettes and are more nicotine-free.
"First of all, I'd tell them (parents) that I'm sorry that their child's using the product," said Burns too CNBC in a message to parents whose children had become addicted to Juul.
"It's not intended for them. I hope there was nothing that we did that made it appealing to them. As a parent of a 16-year-old, I'm sorry for them, and I have empathy for them, in terms of what the challenges they're going through."
Juul claims it has sought to combat use of its product by teens by shutting down its social media accounts and removing from the market the fruity flavors like creme and mango that teens love.
Federal data reveals more than three million U.S. high school students vaped in 2018 and this number is growing fast. The U.S. National Institutes of Health (NIH) in December 2018 reported a huge increase in vaping among American teens in just a single year.
NIH said 37.3 percent of 12th graders reported "any vaping" in the past 12 months compared to just 27.8 percent in 2017. It said use of vaping nicotine in the 30 days prior to the survey nearly doubled among high school seniors from 11 percent in 2017 to 20.9 percent in 2018.
In addition, more than 1 in 10 eighth graders (10.9 percent) said they vaped nicotine in the past year. The use of e-cigarettes has riseen significantly in virtually all vaping measures among eighth, 10th and 12th graders, said NIH.
Twelfth graders saying they vaped "just flavoring" in the past year also rose to 25.7 percent in 2018 from 20.6 percent in 2017.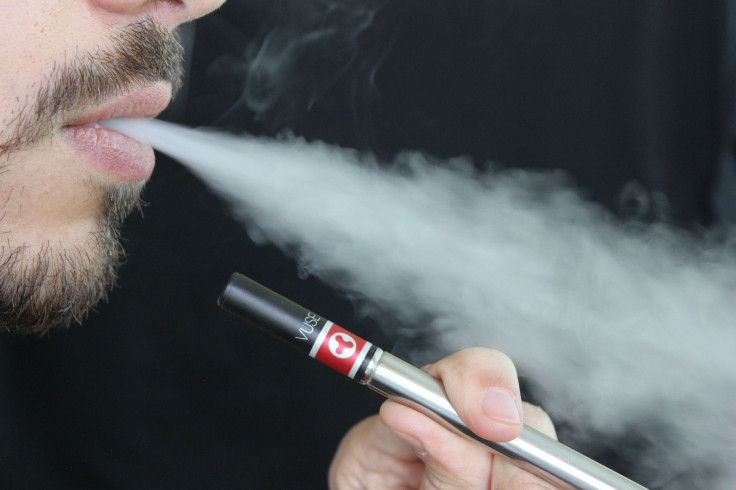 "Teens are clearly attracted to the marketable technology and flavorings seen in vaping devices; however, it is urgent that teens understand the possible effects of vaping on overall health; the development of the teen brain; and the potential for addiction," said Dr. Nora D. Volkow, M.D., director of the National Institute on Drug Abuse (NIDA), which is part of NIH.
"Research tells us that teens who vape may be at risk for transitioning to regular cigarettes, so while we have celebrated our success in lowering their rates of tobacco use in recent years, we must continue aggressive educational efforts on all products containing nicotine."
San Francisco, which is where Juul's headquarters is located, banned sales of e-cigarettes in June 2019.
© Copyright IBTimes 2023. All rights reserved.
FOLLOW MORE IBT NEWS ON THE BELOW CHANNELS