Kansas Vs. North Dakota: Who's More Anti-Abortion?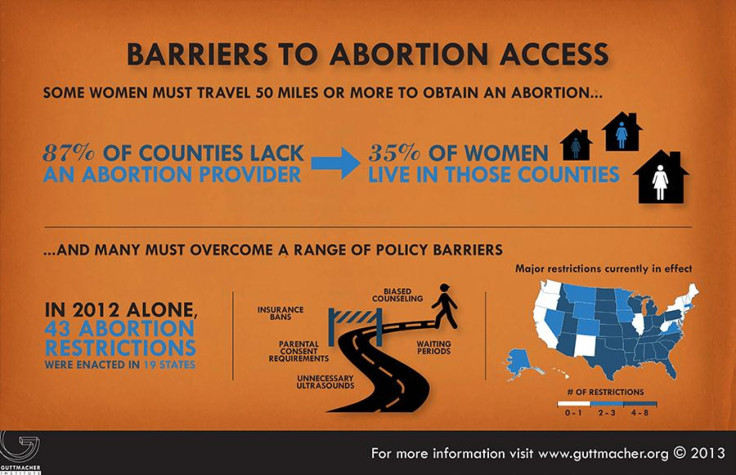 The Kansas Legislature passed a bill on Friday that defines life as beginning at fertilization, forbids gender-based abortions, and bans Planned Parenthood from teaching sex education in schools. The bill also bans tax breaks for abortion providers.
The final vote was 90-30 in the House, and 28-10 in the Senate, the Associated Press reported. Republican Gov. Sam Brownback, a strong abortion opponent, is expected to sign the bill into law.
Kathy Ostrowski, legislative director of Kansans for Life, told Reuters the bill "fulfills the legislative intent to create a pro-life state."
"The human is a magnificent piece of work at all stages of development, wondrous in every regard, from the microscopic until full development," said state Sen. Steve Fitzgerald, according to AP.
The National Right to Life Committee says 13 states, including neighboring Missouri, now have similar "personhood" language in their laws.
Even though the Kansas bill defines life as beginning at fertilization, it does not ban abortion from that point. Its supporters call it a "statement of principle." The law passed in March in North Dakota is one of the strictest on the books: It bans abortions as early as six weeks. The law, HB 1572, aims to "provide equality and rights to all human beings at every stage of biological development."
North Dakota's law bans abortions after a heartbeat can be heard, and bans abortion due to genetic anomalies. North Dakota Gov. Jack Dalrymple also enacted new rules that require abortion providers to have admitting privileges at local hospitals.
There is currently only one abortion provider in North Dakota, the Red River Women's Clinic in Fargo, and it has vowed to take to the courts to fight the new law. On Friday, abortion rights advocates in North Dakota announced they were preparing to sue the state, saying the recently passed bills "compromise women's health and interfere with the physician-patient relationship."
An Arkansas law also passed in 2013 bans abortions at 12 weeks. While Kansas's expected new law is not quite so restrictive, abortion opponents see it as an important step for their fight, the AP said.
"Every taxpayer will be able to know with certainty that their money is not being used for abortion," said Senate Public Health and Welfare Committee Chairwoman Mary Pilcher-Cook, speaking about the tax break provisions of the Kansas bill. "[This] is a clear statement from Kansas with respect to the judgment on the inherent value of human life."
© Copyright IBTimes 2023. All rights reserved.