Kansas Vs. Western Kentucky: Where To Watch Free Live Online Stream Of 2nd Round Of 2013 March Madness; TNT, Prediction, Preview, TV Channel For NCAA Tournament Game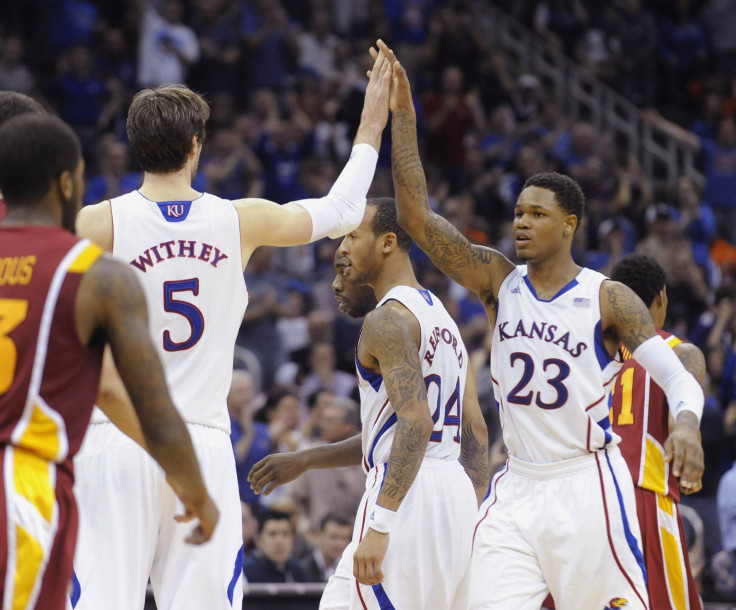 The Kansas Jayhawks wrapped up their third Big-12 Tournament title in four years and with it a somewhat unexpected No. 1 seed in the NCAA Tournament. But that success hasn't always translated into a Final Four trip.
The last time the Jayhawks won the Big-12 Tournament and then won it all was 2008.
Looking to change that trend, Kansas will start their march to Atlanta against Western Kentucky Friday night in second round action at the Sprint Center in Kansas City.
Senior big man Jeff Withey led the Jayhawks with 17 points and nine rebounds in their 70-54 victory over Kansas State in the Big-12 final last week. Perry Ellis and Naadir Tharpe came off the bench for 24 points combined, and the Kansas defense smothered the Wildcats, who shot just 35 percent overall from the field.
Freshman sensation Ben McLemore scored five points, well below his season average of 16.4, and broke a five-game run of reaching double digits.
Kansas spelled a three-game conference losing streak by going on a 10-1 run to end the season, and now meet a Hilltoppers club making a second consecutive trip to the big dance.
At 20-10, Western Kentucky was stuck in fourth place in the Sun Belt, but ripped off a four-game winning streak for the conference title and a punched tournament ticket.
Sophomore George Fant score 17 points with 13 rebounds, and guard Jamal Crook also pumped in 17 points in the Hilltoppers 65-63 win over Florida International in the Sun Belt championship.
Guard Brandon Harris came off the pine to connect on four his seven three-point attempts for 12 points, along with six rebounds.
Western Kentucky also overcame 18 turnovers and a poor shooting display from leading scorer T.J. Price, who went 3-for-10 from the field for eight points.
The game tips-off at 9:50 p.m. Eastern and will be broadcast by TNT, or watch a free live online stream at the NCAA March Madness official site here.
Betting Odds: Kansas is favored by 21 points.
Over/Under: 133 points
Prediction: Withey and the Jayhawks should control the paint for the majority of the game, but will have to stalk the three-point line to keep Western Kentucky's shooters from developing a rhythm. McLemore will also shake off his Kansas State performance, and remind the nation he's a top prospect.
Predicted Score: Kansas 74, Western Kentucky 59
© Copyright IBTimes 2023. All rights reserved.