Kawhi Leonard Injury Update: Return For Spurs All-Star Doubtful, Gregg Popovich Says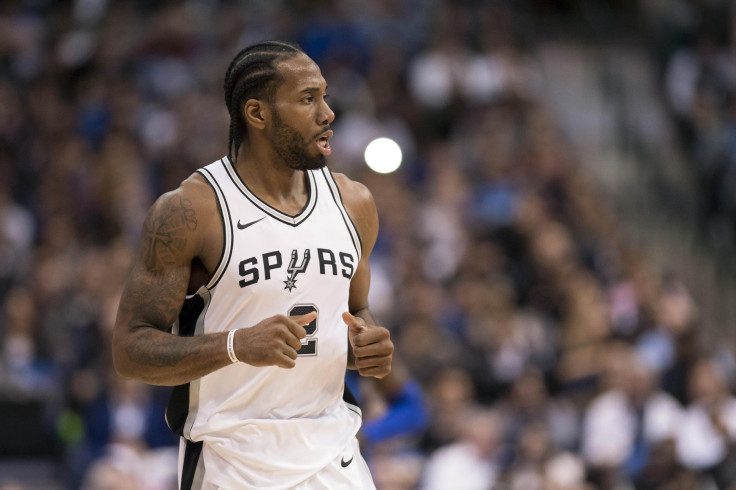 San Antonio Spurs may have to finish the year without their star forward Kawhi Leonard due to his injury. Despite optimism surrounding Leonard's return, the team's coach Gregg Popovich brought in some realism Wednesday, saying: "I'll be surprised if he returns this season."
Leonard has been away from all but nine games this season due to a right quadriceps injury he suffered last season. In mid-January, he was listed as out "indefinitely" by the team. Even with Leonard, San Antonio Spurs made it to the third place in the Western Conference playoff standings with 35-24.
"We only have X-number of games left in the season and he's still not ready to go," Popovich told reporters Wednesday. "If by some chance he is, it's going to be pretty late in the season and it's going to be a tough decision. How late do you bring somebody back? That's why I'm just trying to be honest and logical. I'll be surprised if he's back this year."
Adrian Wojnarowski of ESPN said later Wednesday Leonard has been medically cleared to return to the game, but he "bears the burden of determining when he's prepared to play again."
While recovering from right quadriceps tendinopathy, Leonard told the organization several times during his rehabilitation process he was not comfortable with his ability to play through the injury. He also suggested the Spurs should shut him down.
Even though Leonard's return may come as a surprise to many, several players have expressed optimism, including veteran forward Rudy Gay, who will return from heel bursitis on Friday to face the Denver Nuggets.
"I think that's just for you guys," Gay said in response to Popovich's announcement. "You guys want answers. He gave you an answer. We support Kawhi, but we can't sit around waiting for anybody. We're a team. People have stepped up. LaMarcus [Aldridge] has stepped up. Kyle [Anderson] has stepped up. Davis [Bertans] has stepped up. People are definitely trying to fill the role as best they could.
"If [Leonard] comes back, obviously he's one of the best players in the league. We'll welcome him with open arms. But we have a job to do. We have to do that with or without them. We're going to have to prepare to make a run with or without him. I think we'll be happy if he comes back. But we still have to go out there and compete every night. We still feel like we're a superior team," he added.
Leonard's injury was initially disclosed by the Spurs on Sept. 30, saying he would miss the entire preseason because of right quadriceps tendinopathy. At the time, Popovich said Leonard would "probably miss the beginning of the preseason or a good deal of preseason." He also added the quadriceps issue first developed sometime in the 2016-17 season.
© Copyright IBTimes 2023. All rights reserved.