Kayla Jean Mueller Dead: American ISIS Hostage's Family, US DOD Confirm Death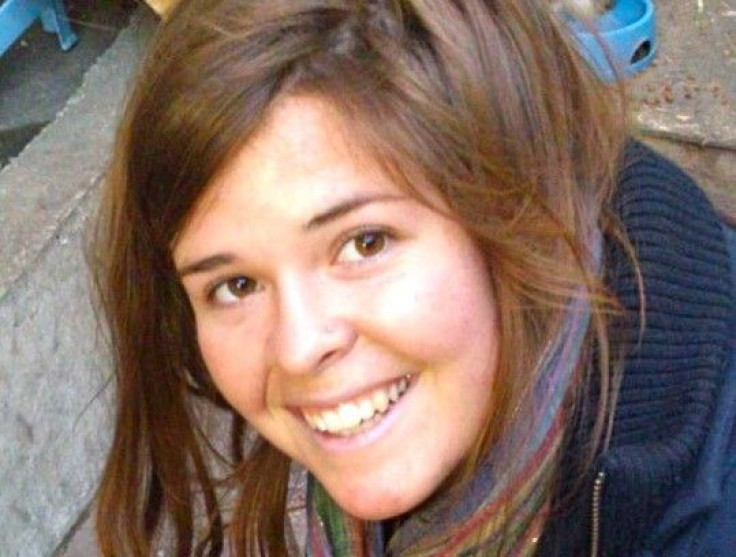 Kayla Jean Mueller, a 26-year-old American aid worker held captive by the Islamic State group, has died, her family confirmed Tuesday morning. Carl and Marsha Mueller were notified of their daughter's death less than a week after the terror group also known as ISIS or ISIL claimed she had been killed in a Jordanian airstrike in Syria.
"We are heartbroken to share that we've received confirmation that Kayla Jean Mueller has lost her life. Kayla was a compassionate and devoted humanitarian. She dedicated the whole of her young life to helping those in need of freedom, justice and peace," the Mueller family of Prescott, Arizona, said in a statement, according to NBC News.
Mueller's parents did not elaborate on how they received confirmation of her death. The manner of her death remains unclear as well.
"It is with profound sadness that we have learned of the death of Kayla Jean Mueller," said President Barack Obama. "On behalf of the American people, Michelle and I convey our deepest condolences to Kayla's family – her parents, Marsha and Carl, and her brother Eric and his family – and all of those who loved Kayla dearly. At this time of unimaginable suffering, the country shares in their grief.. … No matter how long it takes, the United States will find and bring to justice the terrorists who are responsible for Kayla's captivity and death."
Secretary of Defense Chuck Hagel separately confirmed Mueller's death in a statement. "On behalf of the men and women of the Department of Defense, I extend my deepest condolences to the family of Kayla Mueller, who died while being held hostage by ISIL, and who was abducted while providing aid to victims of the conflict in Syria. The world is united in condemning ISIL's continued murder and imprisonment of innocents," he said.
House Minority Leader Nancy Pelosi, D-Calif., also expressed her condolences. "Ms. Mueller's contributions to her family and friends, the people of Arizona and America will live on, and her commitment to creating peaceful communities will continue to inspire the lives she touched," read a statement from Pelosi. "As we strengthen our resolve to bring justice to the brutal regime that has robbed a family of a beloved daughter, and loved ones of a trusted friend, we proudly celebrate Kayla Jean's generosity of spirit."
The Islamic State group claimed Mueller was killed last Wednesday by a Jordanian airstrike that targeted the militants in revenge for their murder of a Jordanian pilot. U.S. officials dismissed that claim at the time, citing a lack of proof. "We have not at this time seen any evidence that corroborates" ISIS' statement, the White House said in a press release last Friday.
ISIS captured Mueller in northern Syria and had held her captive since August 2013, according to various reports. Mueller was the Islamic State group's only known remaining American prisoner, the Associated Press reports.
© Copyright IBTimes 2023. All rights reserved.