Keith Olbermann Ray Rice Rant: ESPN Host Bashes NFL Over Suspension, Treatment Of Women [VIDEO]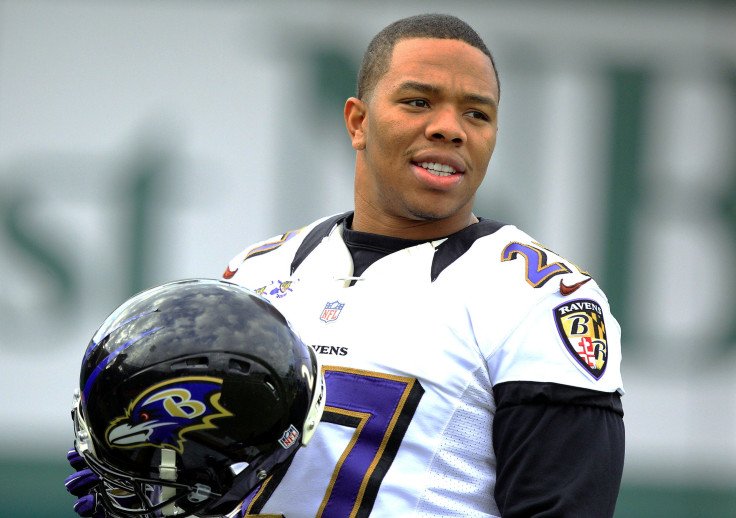 Television personality Keith Olbermann criticized the NFL on Thursday for its decision to suspend Baltimore Ravens running back Ray Rice for just two games following his arrest for domestic violence this offseason.
Commissioner Roger Goodell suspended Rice for the first two games of the 2014 NFL season in connection to his February altercation with then-fiancee and current wife Janay Palmer at an Atlantic City hotel, ESPN reports. Though details of the couple's fight were never made clear, surveillance footage obtained by TMZ Sports showed Rice dragging Palmer's unconscious body out of an elevator.
In response, Olbermann, who hosts an eponymous late-night show on ESPN, went on a five-minute tirade in which he referred to Rice as a "wife-beater" and criticized the NFL for treating violence against women as more acceptable than violence against men. He cited the case of former Tennessee Titans defensive lineman Albert Haynesworth, who was suspended for five games in 2006 after he stomped on the head of Dallas Cowboys lineman Andre Gurode during a game – a punishment of three more games than Rice received for the alleged assault of his wife.
Despite Rice's actions, the NFL continues to market and sell his Ravens jersey to women, Olbermann notes. "The message to the women, who the league claims constitute 50 percent of its fan base, is simple: The NFL wants your money. It will do nothing else for you. It will tolerate those who abuse you verbally and those who abuse you physically," he said.
"And another generation of athletes and fans begins to view the women in sports as just a little less human than the men. And then one of them raised in that environment beats the crap out of his wife. And the message from the National Football League is, that'll get you banned for two whole games. Go smoke pot recreationally and that may get you suspended for a year," he added.
Rice pleaded not guilty in May to third-degree aggravated assault, ESPN reports. Participation in an intervention program allowed him to avoid trial.
"It is disappointing that I will not be with my teammates for the first two games of the season, but that's my fault," Rice said in a statement. "As I said earlier, I failed in many ways. But, Janay and I have learned from this. We have become better as a couple and as parents. I am better because of everything we have experienced since that night. The counseling has helped tremendously."
Olbermann's rant against Rice and the NFL can be viewed below.
© Copyright IBTimes 2023. All rights reserved.