Kendrick Lamar Calls Drake 'Sensitive' In Leaked BET Cypher Video Amid 'Control' Verse Controversy [VIDEO]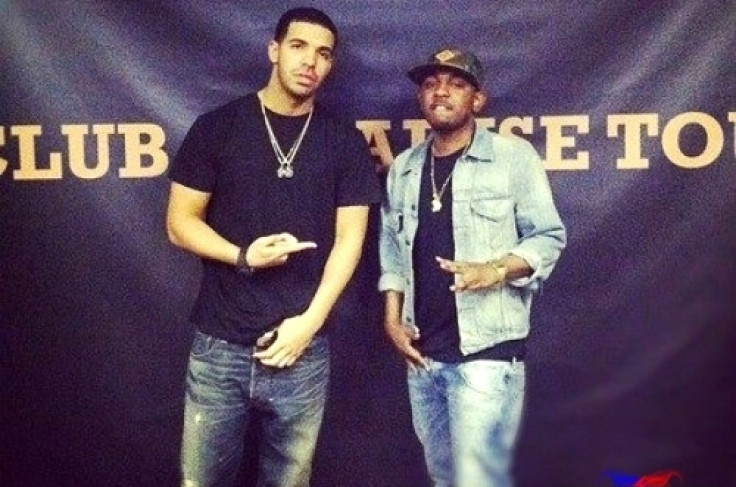 Kendrick Lamar set the Internet ablaze in August when he was featured on rapper Big Sean's song "Control." The Compton, Calif., native called out fellow rappers including Meek Millz, A$AP Rocky, Drake, Mac Miller, and even Big Sean.
"But this is hip-hop and them ni**as should know what time it is/And that goes for Jermaine Cole, Big KRIT, Wale, Pusha T, Meek Millz. A$AP Rocky, Drake, Big Sean, Jay Electron', Tyler, Mac Miller/ I got love for you all but I'm tryna murder you ni**as/Trying to make sure your core fans never heard of you ni**as/ They don't wanna hear not one more noun or verb from you ni**as, [sic]" he raps, in part. Several artists responded with diss records, including Meek Millz, and even P. Diddy weighed in on the challenge.
During a talk last month at New York University, Drake gave his take on the slight. "Kendrick's verse was a moment. It was really cool for a couple weeks. But are you listening to it now? How does that verse start?"
There's speculation Drake disses Lamar in a song on the Canadian-born rapper's latest album, "Nothing Was The Same." In one verse of "The Language," Drake raps: "I don't know who you're referring to, who is this ni**a you heard about?/Someone just talking that bullsh*t, man someone just gave you the run-around."
Lamar has responded, and a snippet of his comeback has leaked online. During the BET Hip-Hop Awards airing on Oct. 15, Lamar disses Drake in BET Cypher: "Yeah … and nothing's been the same since they dropped "Control"/ And tucked a sensitive rapper back in his pajama clothes/ Ha-ha jokes on you, high-five … I'm bulletproof/ Your sh*ts a never penetrate, pin the tail on the donkey boy you been a fake …"
Check out the snippet below:
© Copyright IBTimes 2023. All rights reserved.