Kentucky Basketball News: Early Look At Wildcats Chances In The 2016 NCAA Tournament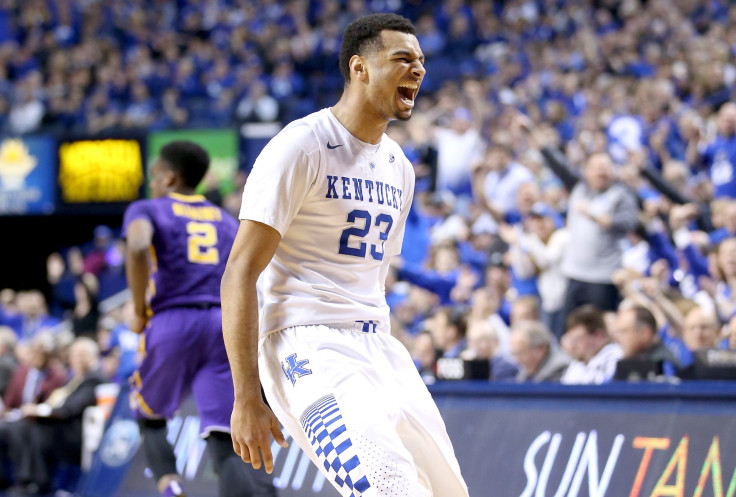 After some bumps along the way, the No. 16 Kentucky Wildcats (23-8, 13-5 SEC) begin their trek through March Madness with the SEC Tournament Friday before learning where their seed will fall for the 2016 NCAA Tournament.
How John Calipari's star freshmen fare in their conference tournament will not only go a long way in determining where the NCAA Selection Committee places them among the field of 68 for this year's tournament but perhaps whether or not they can reach the Final Four in Houston.
Recent history suggests Calipari can will his team deep into the tournament. Kentucky's made the Final Four the last two years, losing to eventual runner-up Wisconsin in 2015 and dropping 2014's championship to Connecticut.
Each of those squads were similarly stacked with some of the most coveted blue-chip recruits in the country, and this year Calipari certainly has the necessary guard play to keep Kentucky humming at least well into the second weekend of the tournament.
The Wildcats are once again loaded with some of the most talented game-changers in college basketball, led by the dynamic backcourt of freshman guard and leading scorer Jamal Murray and sophomore guard and top playmaker Tyler Ulis as they prep to face the Alabama Crimson Tide in the quarterfinals of the SEC Tournament.
Kentucky already blasted the Tide twice this season, claiming 16-point and 25-point blowout victories and barring an upset should advance to the semifinals where it would face either Georgia or South Carolina.
While the Wildcats are assured of a spot in the NCAA Tournament, success in March Madness often comes down to how well a team responds to early adversity and whether the pressure of a tournament atmosphere wears on its players.
It certainly helps that Calipari's been here many times before. He's gone 47-15 over 16 career appearances in the tournament and Calipari has at least made the Elite Eight five out of his six years in Lexington.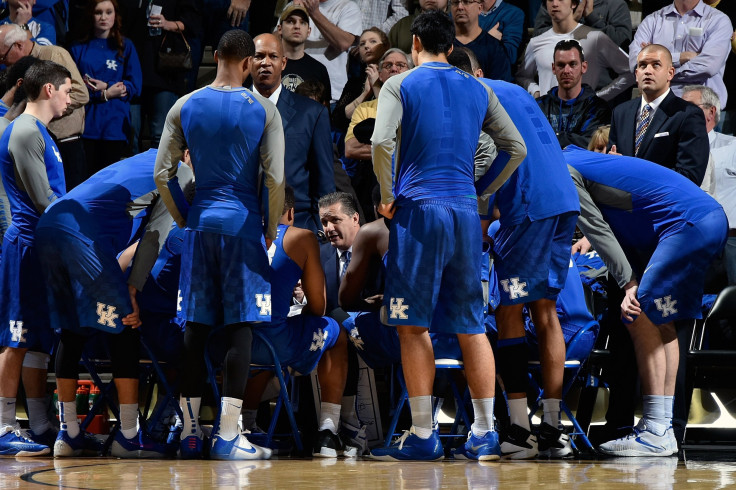 But before Kentucky and its fans get too far ahead with their hopes, it's important to stress how untested these Wildcats are. This season Kentucky registered only two wins over ranked opponents, a 74-63 win over then-No. 5 Duke back on Nov. 17 (just the third game of the season), and Dec. 26's 75-73 victory over rival and then-No. 16 Louisville.
Since then, the Wildcats lost their only other chance to knock off a ranked opponent in then-No. 4 Kansas back on Jan. 30. Kentucky lost in a 90-84 overtime thriller that exposed some of their weaknesses against elite talent.
The Jayhawks held Kentucky to a 5-for-23 success rate from three, and in particular the Wildcats struggled from the free throw line, going 13-for-22 in one of their closest and most important games of the year.
To be fair, the Wildcats haven't been an especially smooth shooting team from deep this year. They finished 10th in the SEC at 35.8 percent from three, and other than Murray's 42.1 percent and junior forward Derek Wills' 44.1 rate, no other Wildcat has averaged better than 31 percent this season.
From the charity stripe the Wildcats didn't fare any better. They were ninth in the SEC at 67.5 percent and, even more discouraging, were also ninth in total free throws attempted.
Knocking down threes to stretch defenses and drawing fouls to slow down games for easier points are tantamount to success in the tournament, especially against schools with more seasoned upperclassmen who have craftier ways of scoring than with pure talent.
But it's that pure talent that makes the Wildcats threats and sets their odds of making the Final Four at 11/1. Senior forward Alex Poythress is the third-leading scorer on the team with 10 points per game and second in rebounding, and his leadership in close games will go a long way for Kentucky, as will the intriguing freshmen trio of guard Isaiah Briscoe, big man Skal Labissiere, and freshman forward Isaac Humphries.
Briscoe's shown in stretches that he can run with the offense with Ulis on the bench, while Labissiere has one of the more unique skill sets in the country and a 6-foot-11 frame that can disrupt any number of smaller teams the Wildcats are sure to face in the early stages of the tournament. Should Labissiere thrive during the tournament, he will almost certainly make the jump to the NBA draft.
A lot has to come together for the Wildcats to succeed, including a favorable seeding in this year's tournament. It's reasonable to assume Kentucky will earn no lower than a No. 5 seed in any of the regions.
© Copyright IBTimes 2023. All rights reserved.