Kentucky Derby 2014 Horses: Top Contenders, Longshot Contenders And What To Watch For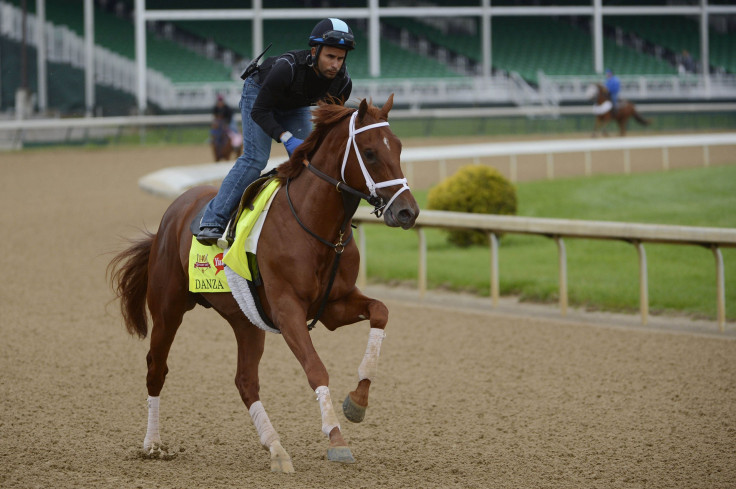 With weather conditions calling for a fast track and one of his biggest challengers scratched due to injury, California Chrome appears like a shoe-in to wear the rose wreath at the 140th Kentucky Derby Saturday.
However, there are 18 other thoroughbreds with a chance to derail the California-bred favorite at Churchill Downs, including several top contenders and a few longshots who could make a late surge on the final turn of the 1 1/4-mile track. Hoppertunity, previously seen as the biggest threat to California Chrome, has been scratched due to bruised left front foot.
The Wall Street Journal's "The Daily Fix" blog broke down numbers from Predicteform's relatively new way to measure a thoroughbred's future success rate. By measuring a competitor's paces at the two, four and six furlong markers, as well as their final times, Predicteform's formula estimates how much energy they have already expended in prior races and puts them in categories like contender, fringe contender, regressor, slow and gassed.
The odds have heavily favored California Chrome over the last two months, and the three-year-old colt is now at 5-2 for bettors, followed by Wicked Strong at 8-1, Danza at 10-1, Intense Holiday at 12-1 and General A Rod, Wildcat Red, Tapiture and Ride On Curlin at 15-1, according to Bovada.lv.
California Chrome is still considered the top contender according to Predicteform, but Wicked Strong, Tapiture and General A Rod have all been labeled as regressor or worst.
Those three falling back makes some room for the other top challengers listed below to supplant California Chrome.
It's important to note the odds on nearly every contestant will shift many times before the 6:24 p.m. EST post time. So rather than playing the odds, Predicteform offers a more nuanced and experience-based approach than a typical racing form would.
Top Contenders
California Chrome
Four consecutive victories by an average of more than six lengths, including the Santa Anita Derby, and the favorable No. 5 post still put California Chrome in the driver's seat in the first leg of the Triple Crown.
Danza
Trained by 2010 Kentucky Derby and 2007 Oaks-winner Todd Pletcher, Danza garnered national praise for his first-place finish at the Arkansas Derby three weeks ago. He should also have more energy to expend then everyone else in the field with only four lifetime starts. After California Chrome and Ride On Curlin, Danza is the only thoroughbred that Predicteform tabbed a contender.
Ride On Curlin
An excellent pedigree that includes all-time richest thoroughbred Curlin, Ride On Curlin has incrementally improved his finishes at the Arkansas, Rebel, Southwest, Champagne and Iroquois qualifiers. He'll also be ridden by three-time Derby-winner Calvin Borel, who last took Super Saver to the winner's circle in 2010.
Dance With Fate
Labeled a regressor, Dance With Fate might have emptied most of his tank during the Blue Grass Stakes victory, and his overall inexperience on dirt tracks does hold him back. Yet the drier expected weather conditions could make the transition from synthetic to dirt tracks a bit easier for Dance With Fate, and two-time Oaks winning jockey Corey Nakatani might give him that extra edge from the No. 12 post.
Longshots
We Miss Artie
Shifting down from 50-1 to 9-1 odds, We Miss Artie is another of Pletcher's pack but his four furlong paces have been way too consistent for Predicteform. He also finished 28 lengths behind Wildcat Red and General A Rod in the Fountain Youth. We Miss Artie did however claim Grade III's Spiral to qualify in March.
Harry's Holiday
Like We Miss Artie, Harry's Holiday has moved down from 50-1 odds, the highest in the field, to 8-1. That likely has more to do with so many bettors hoping to lockdown the higher odds, and the Derby book balancing out. Predicteform shows his four furlong and final pace have tailed off and his jockey Corey Lanerie has never ridden in the Derby.
Commanding Curve
Owner West Point Thoroughbreds hasn't seen the 50-1 line move for Commanding Curve, despite a lineage that includes former great Master Command. Commanding Curve is the lowest earner in the entire field after six starts, and his jockey, Shaun Bridgmohan, hasn't won a Derby in five tries, according to Daily Fix.
© Copyright IBTimes 2023. All rights reserved.