Kentucky Vs. UConn: TV Channel, Online Stream Info, Point Spread And Over/Under For 2014 National Championship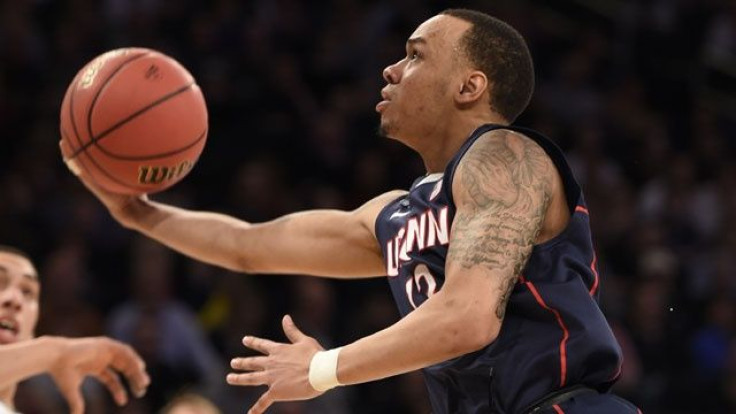 In 2011, UConn won its third ever national championship. The following year, Kentucky cut down the nets on the final day of the college basketball season. On Monday night, one of those two schools will win the national championship game, once again.
No.7 UConn and No.8 Kentucky are set to do battle in the conclusion of the 2014 NCAA Tournament. In Saturday's Final Four, Connecticut upset No.1 overall seed Florida. Following that contest, the Wildcats defeated No.2 Wisconsin.
In their last win, the Huskies held the Gators to just 53 points. Stopping their opponents has been the key in getting UConn to this point. The No.7 seed from the East Region kept Michigan State under 55 points in their Elite Eight matchup, and ranks 13th in the country, allowing teams to shoot 39.2 percent from the field.
"We live and die on defense," UConn head coach Kevin Ollie said after his team beat Florida. "Hopefully everybody understands that."
The Huskies will look to slow down Kentucky, who's averaging over 75 points per game. The Wildcats were able to score into the 70's against Louisville and Wichita State, who rank 15th and ninth, respectively, in scoring defense.
The biggest key for Kentucky during March Madness has been the ability to score timely baskets. All of Kentucky's games have finished within seven points, but that team continues to survive close calls. Aaron Harrison has led the Wildcats with some of the most important shots in the entire tournament. In the Elite Eight, Harrison's three-pointer with 2.3 seconds left helped lift the team to a 75-72 victory over Michigan. On Saturday, the freshman gave Kentucky a 74-73 lead over Wisconsin, by hitting a three-point shot with less than six seconds remaining.
"The biggest thing is he's not afraid to miss," Kentucky head coach John Calipari said. "He's OK with it. He's comfortable in his own skin. ... If you're going to make those kind of shots, you absolutely cannot be afraid to miss them."
While Harrison has made most of the big shots for Kentucky, Shabazz Napier has been that player for UConn. The senior leads the team with 17.9 points per game on the season, and has increased that to 21 points per game in the tournament.
Napier is the Huskies' most prominent player, leading them in assists, steals and adding 5.8 rebounds per contest. Still, he's had help from a supporting cast that's stepped it up in the postseason. In addition to playing stifling defense, junior Ryan Boatright has scored in double-digits in every tournament game. DeAndre Daniels might be playing the best basketball of his collegiate career, averaging 17.6 points and shooting over 53 percent from the field.
UConn brings a wealth of experience to the table, having five upperclassmen lead them in scoring. Kentucky is the polar opposite, led almost exclusively by freshmen. Calipari starts five first-year players. Sophomore Willie Cauley-Stein was the team's top non-freshman, but an ankle injury will keep him sidelined.
Kentucky had its issues in the regular season, eventually falling out of the top 25. However, as the team enters its 40th game of 2013-2014, they finally look like a team that deserved to be atop the preseason rankings.
"We just had too much talent and we saw in spurts how good we could be," Kentucky freshman Julius Randle said. "So it just felt like it was a matter of time before it clicked."
Randle has been the team's best player all year, and shown during the tournament why he will be a top five pick in the 2014 NBA Draft, if he declares. He registered a double-double in his first four tournament games, and scored 16 points on 10 shots in the Final Four.
While players like James Young and the Harrison twins all post double-digit scoring averages, freshmen Dakari Johnson and Marcus Lee have been very important in Kentucky's run. After registering two double-digit scoring performances in the regular season, Johnson is averaging 11 points on seven shots in his last three contests. Lee didn't even play in 15 games, but stepped up to score 10 points in the Elite Eight.
Las Vegas Betting Odds: Kentucky favored by 2.5 points
Over-Under: 135 points
Tip-Off Time: 9:10 PM Eastern Time
TV Channel: CBS
Online Stream: March Madness Live
© Copyright IBTimes 2023. All rights reserved.