Kenya Al-Shabab Bus Attack: Muslims Shield Christian Passengers From Suspected Gunmen Near Somalia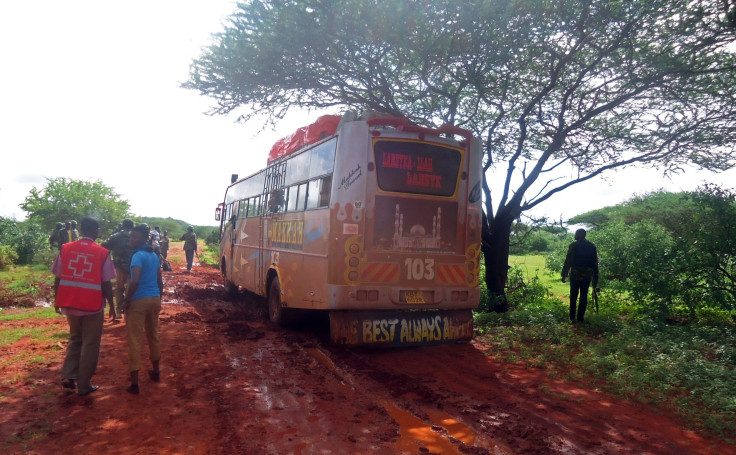 A group of Muslims on a bus ambushed by suspected al-Shabab militants Sunday in northern Kenya shielded Christian passengers by refusing to be separated into groups, eyewitnesses told BBC News. The gunmen killed at least two people and wounded others on the bus, which was carrying more than 50 passengers.
The bus was traveling from the capital, Nairobi, to Mandera in the northeast corner of Kenya and was attacked near El Wak, a divided city on the Kenya-Somalia border. A regional official, Mohamud Saleh, told Al Jazeera the suspected Islamic extremists also shot at a truck following the bus and killed one passenger. No group has claimed responsibility for the attack.
"The attackers tried to wave the bus down but then sprayed it with bullets when the driver refused to stop," Saleh said Monday. "Two people were killed and at least three people were injured in the attack. It is not yet clear who is behind the assault, but I'm not ruling out that this was a case of banditry."
In November 2014, al-Shabab killed 28 Kenyan non-Muslim passengers on a bus in Mandera County after singling them out from the rest of the travelers. The Somalia-based militant group claimed responsibility for the attack, saying it was revenge for Kenyan police raids on mosques in the coastal city of Mombasa, according to Al Jazeera.
Kenya has been a target of al-Shabab, an al Qaeda affiliate, due to the East African country's military intervention against the group in neighboring Somalia. This year, 148 people were killed when al-Shabab gunmen stormed a Kenyan college of mostly Christian students some 125 miles from the Somalia border. The group has been blamed for other attacks in Kenya, including the September 2013 raid on the Westgate shopping mall in Nairobi, which killed 77 people. Its militants have killed more than 400 people in Kenya over the past two years.
Many rural areas of Somalia are controlled by al-Shabab, and the terror group has imposed a strict version of Shariah law there. The group emerged in 2006 from the now-defunct Islamic Courts Union that controlled Mogadishu. Al-Shabab launched its own insurgency on major Somali cities by 2009. The militants have increased efforts in recent months to oust the United Nations-backed government and regain control of territories it lost to Somali and international forces around 2012.
© Copyright IBTimes 2023. All rights reserved.