Kevin Durant Calls DeMarcus Cousins' Move To Warriors 'An Injection Of Energy'
Golden State Warriors forward Kevin Durant believes the addition of DeMarcus Cousins was a much-needed boost for the reigning champions.
Arguably the best center in the league, Cousins' injury status due to a torn Achilles tendon back in January saw him, as per his own claims, receive no offers as a free agent earlier this month. As a result, he reached out to the Warriors who promptly used their midlevel exception to sign him on a one-year, $5.3 million deal.
Although it is a huge drop from the $18 million he received last season during his time with the New Orleans Pelicans, it allows Cousins to continue his recovery gradually, and gives him a chance of potentially winning his first-ever championship as the Bay Area side look to win it for the fourth time since 2015 this upcoming season.
Cousins drew heavy criticism for moving to the already-dominant Warriors as they could now field a starting lineup consisting solely of All-Stars. But Durant, who received even more criticism when he joined in 2016, believes the rest of the league caused this move to happen, especially as his side had no initial interest in the 27-year-old.
"I don't see how everybody let him fall to us but I guess we ruined it," Durant said Sunday in a Nike press conference in Manila, Philippines, as per Rappler.
The two-time Finals MVP also feels Cousins adds a much-needed injection of energy to a Warriors side who lacked motivation, particularly toward the end of the regular season when they lost 10 of their last 17 games, albeit with multiple injury problems at the time.
"Around July 2nd, things kind of change for us but adding somebody like DeMarcus to our team - whom I'm very excited about working with - I think it's going to be a fun year for us, a new season for us," Durant explained. "Last year was just the same, was just repetitive over and over again and we needed an injection of energy and I think DeMarcus is going to provide that for us."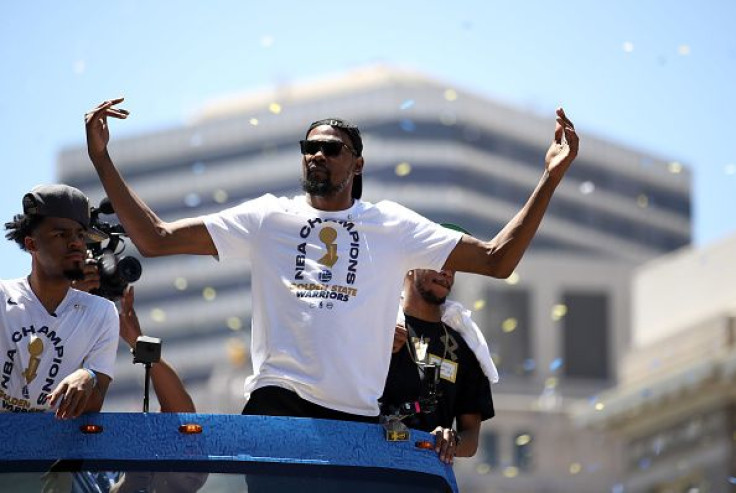 Cousins' move is just one of many this summer as LeBron James opted out of his Cleveland Cavaliers contract and moved to the Los Angeles Lakers on a four-year deal. DeAndre Jordan joined the Dallas Mavericks while Tony Parker left the San Antonio Spurs after 17 years to join the Charlotte Hornets.
And Durant is a big fan of the recent player movement as more players now have the power to decide their fates.
"I think it's amazing that players are starting to take control of their careers, prioritizing winning is what basketball has always been all about," Durant stated. "That's why we all started to play, because we want to win and have some fun out there. I love what's going on right now."
The Western Conference in particular, is even more stacked. James joining the Lakers makes them instant championship contenders while the Houston Rockets, who took the Warriors the distance during the Conference Finals, have retained Chris Paul.
Durant is not worried as he feels it is the most exciting time to be an NBA player right now.
"It's a great time to be a basketball player, not just in the NBA, but as a grassroots player. There's so much energy around the game and it's the best place it's ever been in," he added.
© Copyright IBTimes 2023. All rights reserved.