Kevin Durant Injury Update: Return For Nets Star Might Not Come Soon
It could still be a while before the Brooklyn Nets have their full complement of stars on the court together. Kevin Durant will miss even more time after the All-Star break with no target date for his return.
Durant will miss his 10th straight game with a hamstring injury Thursday night when Brooklyn hosts the Boston Celtics. Nets head coach Steve Nash said Wednesday that Durant will have another scan on his hamstring next week, according to ESPN's Malika Andrews.
Nash noted that Durant will have an "appropriate ramp up" time before he plays in a game. The first year-coach said Durant is doing "really well," though the superstar is still not playing 5-on-5 in practice.
"He hasn't played in a month," Nash said. "So no matter what the scan says, there will still be an appropriate ramp-up time to make sure we put him in a position to finish the season strong."
Brooklyn has four games on its schedule over the next week. For the remainder of March, the Nets don't have more than one day off in between any set of games.
In his first year as a Net last season, Durant missed the entire 2019-2020 campaign with a torn Achilles. He's only played in 19 of the team's 37 games this season.
Durant is averaging 29.0 points, 7.3 rebounds, 5.3 assists and 1.4 blocks per game. The two-time NBA Finals MVP is shooting 52.4% from the field and 43.4% from three-point range.
Led by James Harden's MVP-caliber play, Brooklyn has won 10 of its last 11 games. The Nets are focused on making sure Durant is completely healthy for the playoffs, which are set to start May 22.
"We just need to be very cautious because he's a really important player for us," Nash said.
Harden, Durant and Kyrie Irving have only shared the floor as teammates for 186 minutes over the course of seven games. Still, the Nets enter the second half of the season at 24-13 and only a half-game out of first place in the Eastern Conference.
The Nets have signed Blake Griffin for the second half of the season. Griffin won't play Thursday because of "left knee injury maintenance." After acquiring Griffin, the Nets became co-favorites with the Los Angeles Lakers to win the 2021 NBA Finals.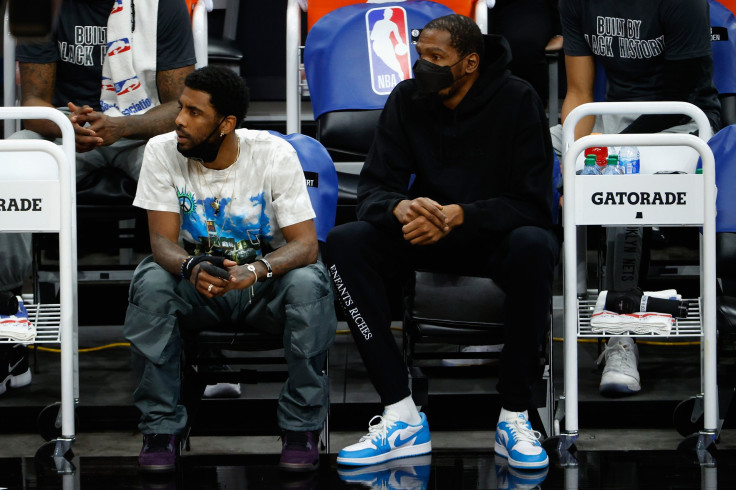 © Copyright IBTimes 2023. All rights reserved.