Kim Jong Il's Birthday: Lavish 'Kimjongilia' And Rocket Displays Celebrate Late North Korean Leader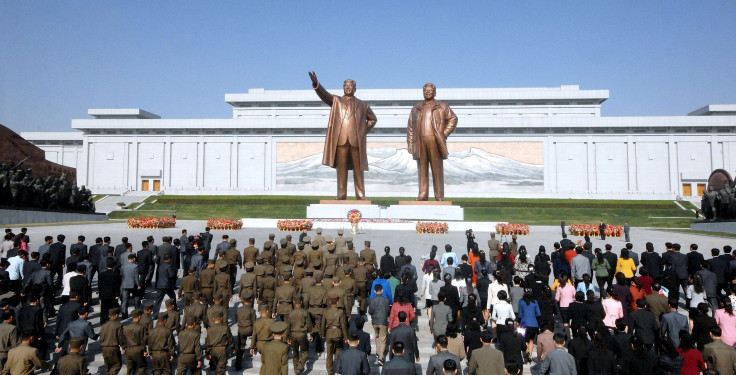 Tens of thousands of Kimjongilias — red begonias named after North Korea's late leader — were on display Tuesday to commemorate Kim Jong Il, the North Korean leader who died several years ago from a heart attack. If he were alive today, Kim would be 75 years old.
The exhibit opened Monday, a day ahead of the national holiday recognizing Kim's birth, referred to as, "the Day of the Shining Star." The display also included models of North Korea's new Kwangmyongsong rocket, the Associated Press reported. The rocket, too, is named in honor of the former leader.
Mixing flowers with mock rockets is common in the militarized state, which is considered among the world's most authoritarian. The display is presumably meant to encourage national pride by showing off the power of the country's leadership.
The late leader — the father of current leader Kim Jong Un — died in December 2011, after 17 years of ruling North Korea. The birthday display also paid respects to Kim Il Sung, who led the country for more than four decades. Elsewhere in the city, pictures showed masses of North Koreans bowing in front of bronze statues of the previous leaders.
Also Tuesday, South Korean President Park Geun-hye said North Korea's nuclear ambitions would lead to a "regime collapse." She defended her decision to shut down a jointly run factory with North Korea, following a nuclear test in January and a satellite-rocket launch earlier this month. Both moves were seen to violate longstanding U.N. resolutions and could lead stronger international sanctions to be slapped against North Korea.
North Korea is considered to have the world's most corrupt and repressive government. Human rights groups have repeatedly condemned the country's restrictions on free speech, press and religious freedom. The government reportedly maintains secret labor camps for government opponents where torture and starvation is routine.
© Copyright IBTimes 2023. All rights reserved.
FOLLOW MORE IBT NEWS ON THE BELOW CHANNELS