Kim Jong Un Illness Rumors: North Korea State Media Confirms Leader Experiencing 'Discomfort'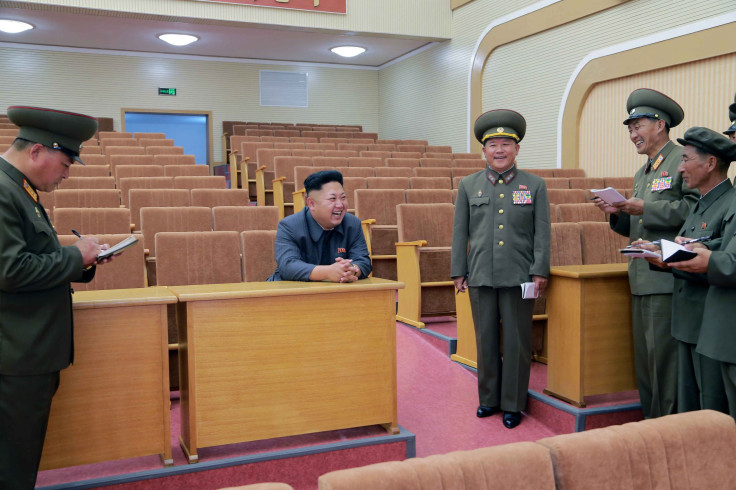 North Korean Supreme Leader Kim Jong Un's weekslong absence in official state media has raised questions about the president's health, but it's especially unusual for Kim not to be seen at high-level meetings like the one that took place Thursday.
The Associated Press yesterday reported Kim's notable absence from the rubber-stamp Supreme People's Assembly meeting that was broadcast on state television, apparently the first time he's missed the meeting since taking office in December 2011 after the sudden death of his father and predecessor, Kim Jong Il.
After an extended period out of the public eye, North Korean state media has acknowledged his absence and rumors of illness by saying that the 31- year-old leader was experiencing "discomfort," without going into further detail. "The wealth and prosperity of our socialism is thanks to the painstaking efforts of our marshal, who keeps lighting the path for the people, like the flicker of a flame, despite suffering discomfort," a narrator said during a state TV documentary that aired Thursday.
Kim was last seen on Sept. 3, when he was photographed with his wife, Ri Sol Ju, at a concert. Before that, he was seen on television in July, apparently limping, at an official event and also during a state-produced documentary on the country's Supreme People's Assembly, further fueling rumors that his health was deteriorating.
Speculation on what's causing Kim's so-called discomfort ranges from the ridiculous to more believable reasons, like hereditary disease. British tabloid the Daily Mirror floated the idea that the Swiss-educated Kim had become ill after eating too much imported cheese, explaining his recent weight gain. Some other North Korea observers, like Michael Madden, a contributor to 38 North, a website dedicated to analysis of the pariah nation that is powered by the U.S.-Korea Institute at Johns Hopkins University, suggest his family background and weight gain points to a hereditary disease. "Based on his gait, it appears he has gout — something [due to] diet and genetic predisposition that has affected other members of the Kim family," Madden said to Reuters.
Experts at NK News, a North Korea-focused news site, don't think Kim's prolonged absence indicates anything more serious, especially considering he has disappeared for weeks in the past. The publication pointed to another stretch in 2012 when the leader was absent from the media before returning with no explanation.
FOLLOW MORE IBT NEWS ON THE BELOW CHANNELS