Kim Jong Un Is 'Sick', Taiwan Security Chief Reveals
KEY POINTS
Taiwan's intelligence agency is adding more confusion to the question about the alleged death of Kim Jong Un
The head of the agency laughed when asked if Kim is alive
His deputy later said the spy agency is "unable to confirm the status of Kim Jong Un's health"
North Korean dictator Kim Jong Un, whose disappearance since April 12 continues to fuel conspiracy theories, might either be alive or dead, according to the National Security Bureau (NSB), the intelligence agency of the Republic of China (Taiwan).
On Thursday, retired general Chiu Kuo-cheng, the current NSB Director-General, told select lawmakers of Taiwan's parliament, the Legislative Yuan, Kim is "sick," while at the same time refusing to categorically confirm if Kim is alive. Asked by Democratic Progressive Party (DPP) lawmaker Tsai Shih-ying if "he's sick, but is he still alive?" Chiu laughed but didn't respond to the question.
"My answer is from the intelligence that is available and it is not an opinion," said Chiu, according to Taiwan Times.
Oddly, Chiu refused to reply when asked again if this means Kim is indeed alive. He did, however, say Taiwan has contingency plans in the event of Kim's death and the ensuing power vacuum in North Korea.
On the other hand, Hu Mu-yuan, Chiu's deputy, added to the confusion by later saying NSB is "unable to confirm the status of Kim Jong Un's health."
"From what we know, Kim is still in charge and in control of North Korea's military and its government," according to Hu.
Rumors of Kim's death or near death first surfaced in a report to this effect in the website, Daily NK, run by North Korean defectors.
Daily NK said an anonymous source told them Kim has been struggling with cardiovascular problems since last August "but it worsened after repeated visits to Mount Paektu."
No one knows what Kim's physical condition is, but the continuing silence from North Korea about his no-show since April 12 is fueling rumors he isn't being seen because he's dead. On Monday, the South Korean government made the doubtful statement Kim is "alive and well" and is probably vacationing at one of his luxury mansions in the city of Wonsan. President Donald Trump believes Kim to be alive, as well.
Earlier this week, Trump said the world will hear additional details "in the not too distant future" about the real state of affairs surrounding his friend. Trump, however, refused to reveal more details.
"Yes I do have a very good idea," said Trump when asked if he had any information on Kim's health. "I can't talk about it now. ... I hope he's fine, I do know how he's doing, you'll probably be hearing in the not too distant future. Nobody knows where he is."
Trump also said he couldn't "tell you exactly" the status of Kim's health, but caught everyone's attention by said he did have a "very good idea" about his condition.
"But I can't talk about it now," declared Trump. "I just wish him well."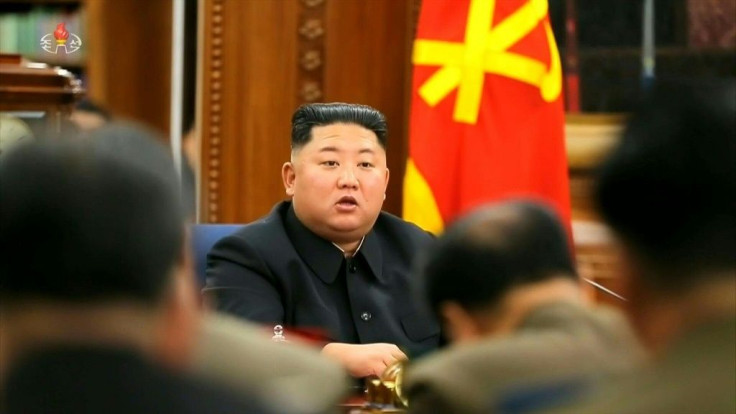 © Copyright IBTimes 2023. All rights reserved.