Kim Not Perfect But Good Enough At Worlds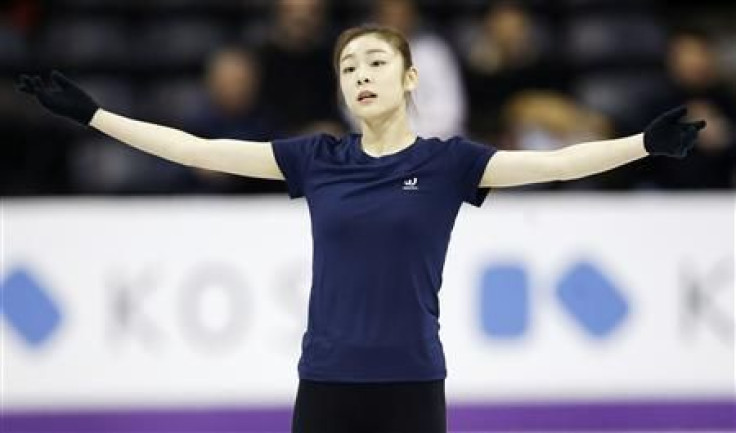 Kim Yuna felt her short program at the world figure skating championships on Thursday deserved a perfect score and while the judges did not agree they still gave the Olympic champion top marks.
Making a comeback after nearly two years on the sidelines, the South Korean's short skate to the dark and brooding music from "The Kiss of the Vampire" was spellbinding but her score was far from the perfection the 22-year-old felt it deserved.
In fact, judges did not even view her effort as good as the performance she gave in her return to competition at the NRW Trophy in Germany last December.
Taking part in just her third competition since a 20-month sabbatical, Kim displayed no signs of nerves or rust during a clean and graceful program. She landed all her jumps, including a triple lutz-triple toe loop combination to kickoff a routine that earned her a mark of 69.97.
The only potential flaw Kim thought judges might have caught was a wobble on her opening spin but otherwise she could find no fault with her effort.
"I tried my best and would give myself the full 100 percent," Kim told reporters with the help of an interpreter. "The score, I was a little bit surprised. Perhaps my first spin was not good enough. Maybe I got downgraded for that.
"In the end I was little surprised but I know that I gave it my best so I have no regrets."
Kim's run of having medaled in every competition she has entered seems sure to continue in London.
She will go into Saturday's free skate with a comfortable lead over reigning world champion Carolina Kostner of Italy, who is in second place with a mark of 66.86 despite crashing to the ice on her opening combination. Japan's Kanako Murakami was third on 66.64.
THUNDERING OVATION
Kim's rivalry with Mao Asada was expected to provide one of the great highlights of these championship but the showdown lost much of its pizzazz when the Japanese double world champion could finish no better than sixth.
"I wasn't as nervous as I imagined," said Kim, world champion in 2009. "It has been a long time since I competed in such a big venue with a lot of people filling the venue but in the end because I focused on my practices I knew that I was doing well in the practices so I felt good."
Kaetlyn Osmond added to a growing string of sizzling home ice performances by Canadian skaters taking fourth spot in her world championship debut.
The 17-year-old skater, who trains in a rink amid the shoppers and bargain hunters at the West Edmonton Mall, produced a flawless short program to earn a personal best mark of 64.73 and a thundering ovation.
Described as a "show off" by coach Ravi Walia, Osmond has all the qualities of a natural born entertainer embracing the crowd and channeling that energy into a generous performance.
As Canada's lone entrant in the women's competition there may be more riding on Osmond's performance than other Canadian here and that pressure is sure to be ratcheted up on Saturday.
A top 10 result by the precocious teen will qualify Canadian women for two spots at next year's Sochi Olympics.
"It is a little shocking I was going into the season to see what happens and to go out there and to win my first international and my first Grand Prix it was just unbelievable," said Osmond, who struggled to a 10th place finish at the junior worlds a year ago.
"It's just unbelievable to see how much has progressed so fast."
(Reuters)
© Copyright IBTimes 2023. All rights reserved.