KKK Prank: Oklahoma Mayor's Husband Regrets Halloween Stunt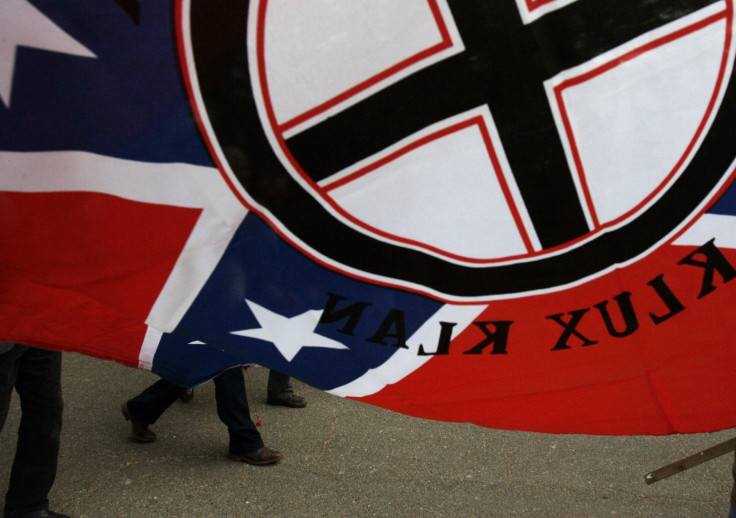 The husband of an Oklahoma town's mayor has apologized for a Halloween "prank" in which he and his friends dressed as Ku Klux Klansmen and pretended to burn a cross. Images of the costumed men circulated over Facebook, angering residents of Lahoma, the Enid News reported.
"We just thought it'd be something to do, and it's not something to do. I am embarrassed. I've shamed my family and friends, and I apologize for that," Cary Sharp, husband of Lahoma Mayor Theresa Sharp, told News 9 in Oklahoma City.
Sharp said the idea came up as he and his friends were sitting around a bonfire drinking beer. None of the men involved was charged because no laws were violated, but local law enforcement denounced the stunt as being a bad decision done in poor judgment.
"It was done in very, very poor taste," Garfield County Sheriff Jerry Niles told the Enid News. "It brings up bad images of things that 99.9 percent of Americans, especially Oklahomans, are adamantly against. We're all Americans, born and raised here, and we have a responsibility to honor the Constitution and the rights of others and feelings of others."
Mayor Sharp also spoke to News 9 about the incident and said she didn't condone the prank, regardless of whether it was done by her husband or anyone else in the town.
"It's not anything that I think needs to be represented for our community at all," she said.
The news comes shortly after the release of a list of purported KKK members by the hacktivist group Anonymous. The hackers have named nine politicians, including four senators and five city mayors, they claim are members, although the list remains unverified. As of Monday afternoon, one senator – Dan Coats, R-Ind. – and all five mayors accused by Anonymous had denied the allegations they are associated with the hate group.
© Copyright IBTimes 2023. All rights reserved.