Klitschko vs. Fury: PPV Info, Actual Start Time, Prediction For Heavyweight Title Fight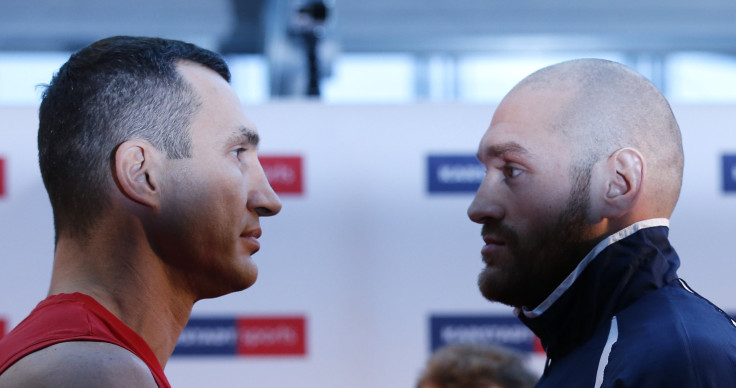 After months of antics, puffed up trash talk, and guarantees, Great Britain's hulking challenger Tyson Fury is finally set to enter the ring against heavyweight champion Wladimir Klitschko for Saturday's title fight at the Espirit Arena in Dusseldorf, Germany.
Since the prize fight was confirmed, the 27-year-old Manchester native Fury's lambasted Klitschko from afar with promises of a knockout and "demolition job" of a champion that hasn't lost in more than a decade. All the while the Ukraine-born Klitschko's remained his typical stoic self and largely brushed off Fury's demonstrative hype machine.
Originally the fight was scheduled for late October, but the 39-year-old Klitschko suffered a calf injury during training and the meeting was pushed back.
Despite the injury and the postponement, as well as Fury's massive 6-foot-9 frame, Klitschko has remained the heavy favorite based off his boxing acumen and incredible knockout power. Over the last 11 years Klitschko's turned back 22 consecutive challengers with only six lasting the full 12 rounds. Fourteen others have fallen to Klitschko's mighty hands and the remaining two retired between rounds.
It's a resume and overall career of pure dominance, but the ever confident Fury seems the perfect challenger to stand up to the champion. In the process of claiming the English, Irish, and Commonwealth titles, as well as the WBO international crown, the undefeated Fury's displayed his own brand of ferocious power with 18 knockouts to six decisions and scared off many of the world's top champions and contenders.
Yet odds makers and the betting public alike remain unconvinced of Fury's chances of dethroning Klitschko. According to Bovada.lv, Klitschko maintains his favorite status as -500 to Fury's +350.
Though they were only separated by a pound, the results from Friday's weigh-in, however, could swing the odds in either direction. Fury came in at 247 pounds, the lightest he's been for any fight in three years, while Klitschko was four pounds heavier than his last fight against American Bryant Jennings back in April.
And during the weigh-in, Fury continued to poke and prod the champion, refusing to shake hands after their stare-down.
"I saw fear and nerves in his face, like I always do when I stare into Wladimir's eyes," Fury told Press Association. "I think he's very tense and uptight about this fight. He knows he's going to lose.
"Hopefully I have some nervous energy myself by Saturday night because at the moment I'm not nervous at all. I just feel like I'm going to the sweet shop.
"One more sleep and I get what I've always wanted; my chance to prove I'm the best heavyweight in the world."
Due to the six-hour time different between the United States' East Coast and Dusseldorf, HBO's pay-per-view is scheduled to begin at 4:45 p.m. ET. and Fury is expected to enter the ring roughly 10 minutes later followed by Klitschko so the bout will likely start 30 minutes after the cable network begins its broadcast. However, fans and viewers could wait a little longer while the announcements and national anthems for each fighters' country are played.
To order the fight fans can contact their cable or satellite provider, or head to HBO Boxing's official site and order there.
Prediction: The fact that Fury actually trained with Klitschko years ago is a huge factor, as well as Fury's size presenting a challenge for Klitschko to find suitable sparring partners in prepartion for the fight. But Fury's youth and inexperience compared to Klitschko's methodical ways mean he's likely to get sloppy as the fight gets into the later rounds. If Klitschko outlasts Fury's best punches for the first six rounds, he will pick apart Fury, earn a unanimous decision, and retain his titles.
Klitschko by decision.
© Copyright IBTimes 2023. All rights reserved.