Knicks' pick Josh Harrellson has a history of surprising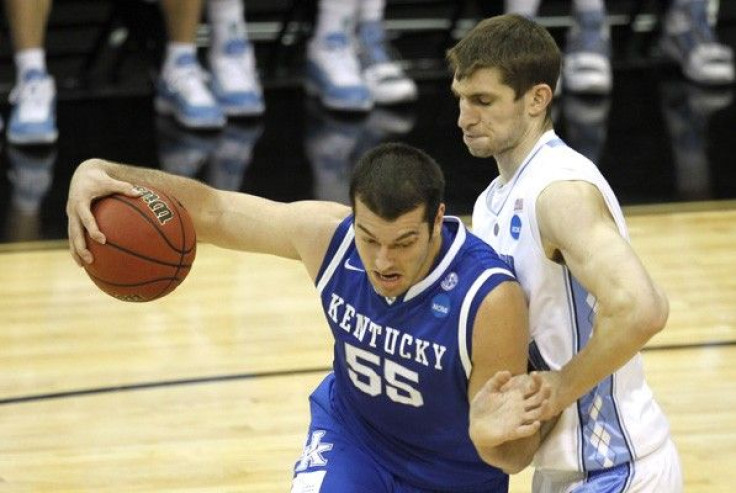 I can forgive Knicks fans for not thinking much of New York's second-round pick of Josh Harrellson in the NBA draft. I remember seeing him come into University of Kentucky games at center and cringing. As a longtime fan of UK, seeing my team anchored in the paint by an unimpressive bench rider made me cringe. By the end of last season, however, he had changed my mind and the minds of a lot of other people as well.
Donnie Walsh must have seen something in the St. Charles, Mo., product, too. He arranged to purchase the New Orleans Hornet's 45th pick for a figure somewhere around $750,000. Harrellson was the prize.
Harrellson is not your typical Knicks player. He didn't play organized ball until his freshman year of high school. He opted for a St. Louis-area junior college instead of the Division I school that wanted him. After a year of playing at Southwestern Illinois College, he was tapped by Billy Gillespie, Kentucky's coach at the time, and he transferred to UK, where he promptly sat on the bench. His time under Billy G wasn't noteworthy. Gillespie was reportedly so disgusted with Harrellson's playing that he locked him in a bathroom stall during halftime of one game while Gillespie went over second-half strategy with the rest of the team.
His next coach didn't think much more highly of him. Gillespie was canned by UK in 2009 for a variety of crimes, including that of losing 14 games in one season--a capital offense in the Commonwealth of Kentucky. UK hired John Calipari, who promptly stocked the team with blue-chip recruits, ensuring that Harrellson stayed on the pine. In 2010, Harrellson averaged 1.3 points and played a total of 88 minutes all season.
For the 2011 season, Calipari again stocked UK's larder with exceptional recruits. One of those prospects was Enes Kanter, a talented center from Turkey. Harrellson seemed destined to finish out his college career as an infrequently used substitute. But when the NCAA ruled that Kanter was ineligible to play for Kentucky because of a questionable fee he earned in Turkey, Calipari found himself without a solid center. Harrellson was ready to step in.
Harrellson started out the 2011 season a bit flat, fouling quite a bit while rarely pushing his point total over double digits. Calipari didn't have the horses to keep him out of the lineup, however, and Harrellson responded with an early season star performance against UK's most hated foe, the University of Louisville. Many were picking the UofL Cardinals to take that game, but Harrellson nearly carried UK to the win, pouring in 23 points (with an 83% field-goal percentage) and pulling down 14 rebounds.
Nothing wins the hearts of UK fans more than delivering UofL a devastating loss.
Harrellson had another good game in UK's next outing, an 86-62 win over Penn. But then the strong center/power forward in Harrellson went back into hiding. He didn't break double digits in points for more than a month, and his heroics against Louisville began to look like an aberration. Occasionally the 6'10 big man had a solid game, but Harrellson only notched one more double-double before the regular season's end. His work on the glass remained superior--Harrellson led the SEC in 2011 with 8.8 rebounds per game. He just wasn't scoring. After the Penn game, he scored 10 total points in the month of January while playing at up to 30 minutes per game.
But in a fashion that could surely warm the hearts of NBA fans who appreciate players blossoming under pressure, not wilting, Harrellson re-emerged in the SEC tournament and again led UK to a tournament championship and then into a drive deep in the NCAA tourney. He had double-doubles against Princeton and Ohio State, and poured in 15 points versus West Virginia and 12 against North Carolina. Against eventual NCAA champ UConn he scored poorly (3-6 for 6 points), as did most of the Kentucky team (34%), in that 56-55 Final Four loss. Connecticut was the better team in that contest. But all in all he averaged 15 points per game in the NCAA tournament.
The Knicks are listing Harrellson as a forward. He'll stay in the paint, though. Harrellson doesn't shoot the three, and his body (275 lbs) lets him bang around under the boards.
Underestimate him, Knicks fans. It's sort of a tradition with Harrellson. Then wait to be pleasantly surprised.
© Copyright IBTimes 2023. All rights reserved.