Kobe Bryant's Last Game: How Much Are Tickets At Staples Center vs. Utah Jazz?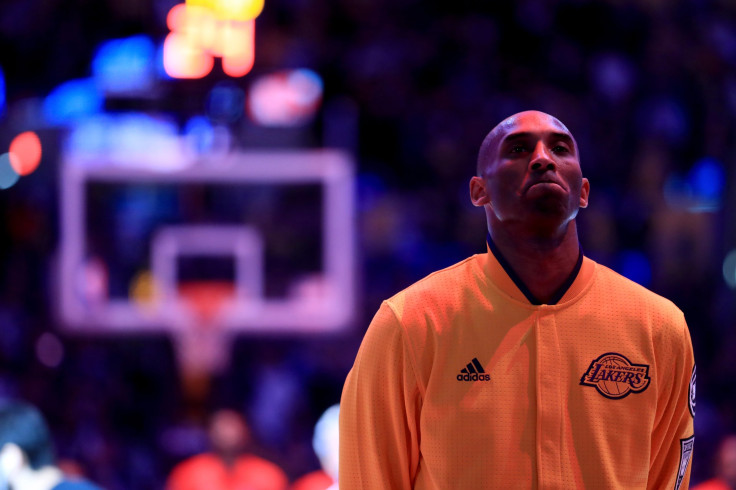 A ticket to see Los Angeles Lakers future Hall of Famer Kobe Bryant take an NBA court one more time will cost hopeful fans no matter where they sit at Staples Center. Despite the Lakers' downtrodden season, Bryant's final game Wednesday night against the Utah Jazz is heating up the secondary market, according to data provided by StubHub.com.
The average cost for a single ticket to see the five-time champion and 18-time All-Star Bryant wear a Lakers uniform for the last time is $970 and demand has increased for Los Angeles regular season finale by 89 percent. Last year the Lakers went 21-61, the worst mark in team history, thus there was little demand for tickets and the average price was a mere $58.
But of course, Bryant hadn't announced his retirement and fans will look past the Lakers 16-65 record and third-straight absence from the postseason to see the "Black Mamba."
There is also a chance the NBA's third all-time leading scorer could put on a show one last time. Bryant's numbers have declined this year, but he has put on a show of late for Lakers supporters, firing off 34 points at home against Boston last week, and another 35 points against Houston on Sunday.
L.A. joins the Golden State Warriors, and their pursuit of a record 73 wins in a single season, as the biggest draws for the last two days of the season. Bryant's final game and Golden State's matchup with the Memphis Grizzlies has accounted for 83 percent of all recent NBA sales on the secondary market, according to StubHub.
Still, a pass to see Bryant is more expensive than watching the Warriors potential shot at history. There has been a 300 percent average price increase compared to Golden State's final regular season game last year, from $87 to $352, but that still pales in comparison to the Lakers and Bryant.
A quick search of StubHub finds Lakers and Bryant fans can pay up to five figures to sit courtside or shell out a little over $700. The most expensive ticket runs for $25,000 but provides a perfect view from center court, while the lowest price is $739 for a spot in one of Staples upper corners.
© Copyright IBTimes 2023. All rights reserved.