Kyrie, Durant And Davis To The Knicks? Broussard Explains Possibilities
The 2019 NBA All-Star weekend has thrown up all sort of possibilities when it comes to the free agent market, especially with four of the big 2019 free agents – Kyrie Irving, Kevin Durant, Kawhi Leonard, and Klay Thompson – playing for Team LeBron.
Irving and Durant were seen talking to each other outside the locker rooms and -- with both players being able to choose their next destination – speculation has begun about a possible union, with the New York Knicks being touted as the potential landing spot.
The Knicks had the cap space to sign one big free agent in the summer and Durant was said to be their top target, but they can now land two top players after clearing further cap space by trading Kristaps Porzingis.
And Irving, who has now backtracked on his verbal commitment to Boston Celtics, could leave and according to Fox Sports' Chris Broussard, New York will be top of his list as it is closest to his hometown of West Orange, New Jersey. And if his team does not at least make the Eastern Conference Finals this year, experts believe that he will look for pastures new.
And Durant and Irving could explore the possibility of joining forces at the Madison Square Garden, which will immediately make the Knicks contenders. And Broussard claims that neither player will want to join the franchise without the other.
"It's very realistic," Broussard said, talking about Durant and Irving teaming up on Fox Sports' "First Things First". "I'm not saying Kyrie's out of Boston. But I do think a lot of it depends on how this season ends."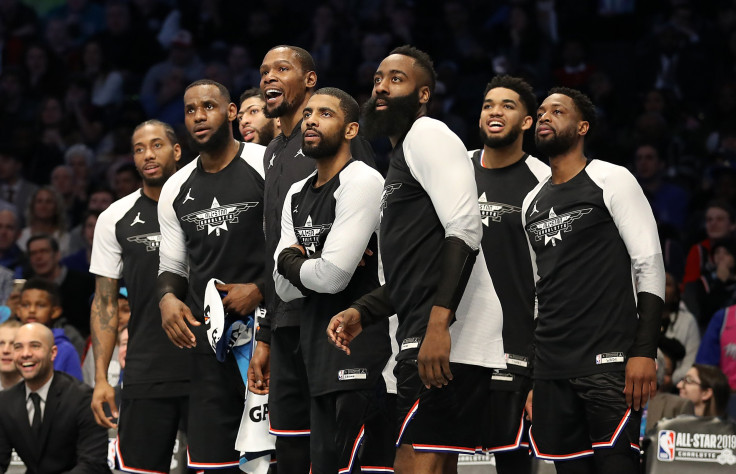 "Right they're scheduled to play Milwaukee in the second round and I think Milwaukee, in my book, would be favorite. If they go out in the second round, is Kyrie or the other young players going to be able to accept that 'we went further last year in LeBron's East, beat Milwaukee. Now we have Kyrie and we lost to them'.
"That could push him out the door. I don't think he's going to the Lakers, but there are people in the league that it's either the Knicks or the Lakers. I think it would definitely be the Knicks. He's from the Greater New York area in West Orange New Jersey," he explained.
"I don't think KD would go to New York by himself, I don't think he should go to New York by himself. He and Kyrie are close. They will be talking."
The NBA expert did not stop there and put forward a truly exciting but scary prospect for the NBA by claiming that there is a possibility that Anthony Davis – likely to be the most sought after non-free agent in the summer – could join them in New York if the franchise plays their cards right.
Davis has requested a trade and is certain to leave the New Orleans Pelicans in the summer. The Los Angeles Lakers were leading the charge, while there is also strong interest from the Celtics. However, Broussard is of the view the Knicks can part with their first or second pick in the upcoming draft and trade that for the power forward to create a super team in New York.
"Here's the scary thing, if those two want to go to New York and New York gets the first pick or even second pick, you could offer that for Anthony Davis. Obviously with Kyrie and KD your timetable changes," Broussard added.
"You don't want to necessarily wait on a Zion Williamson to develop. Maybe you just go get Anthony Davis and you talk about a big three of Kyrie, Kevin Durant, and Anthony Davis."
© Copyright IBTimes 2023. All rights reserved.