Kyrie Irving Draws Praise From Kevin Durant, Gives Cavs Shot Against Warriors In 2018 NBA Finals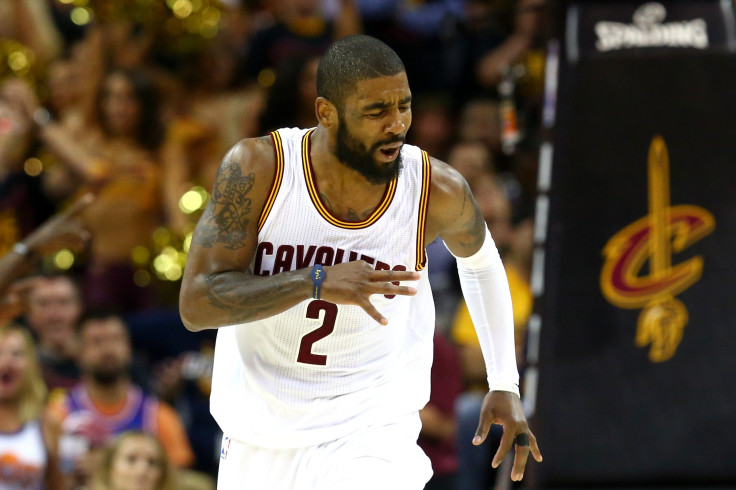 Kevin Durant was named the 2017 NBA Finals MVP as the Golden State Warriors defeated the Cleveland Cavaliers to win the title, but he was far from the only star that put up big numbers in the five-game series. Kyrie Irving looked like the most dynamic scorer on either team, at times, and Durant certainly took notice.
Making an appearance on "The Bill Simmons Podcast" just a day after getting his first championship ring, Durant marveled at what Irving was able to do.
READ: How Many People Watch The 2017 NBA Finals?
"He makes you happy when you watch him play," Durant told Simmons. "You just smile when you watch him play. For somebody to be that skilled, you know he had to work tirelessly at it. The stuff he has in his package is next level stuff that you can try to teach your kids to do it, but you'll never be able to do it. I've never seen anybody block his layup, and he's 6'2. I've never seen one person pin his layup on the glass, not one. Because of the spin he's got on it, and he don't have to look it. I got so much respect for him because I know how much work he put in to be that good. I've never seen nobody like him."
An average of more than 20 million fans watched the 2017 NBA Finals, and a large portion of them were probably just as impressed as Durant. Irving is often recognized as the best finisher at the rim in the league, and he proved to be just that against Golden State. He converted on countless shot attempts that seemingly had little chance of going in the basket, scoring with ease against the NBA's second-best defense.
"His bag is full of tricks," Durant said. "His layup package is crazy."
Irving averaged 29.4 points per game on 47.2 percent shooting in the Finals. He made 41.9 percent of his three-pointers, taking 6.2 shots from behind the arc per contest.
It was in Game 3 and Game 4 where Irving truly shined, nearly getting the Cavs back in the series following two straight blowouts at Oracle Arena. He scored 38 points in the first game in Cleveland, making 16 of his 22 two-point field goals. Two nights later, Irving helped the Cavs win their first game of the series, leading all scorers with 40 points on 27 shot attempts.
At just 25 years old, Irving has already entered into the conversation as one of the best scoring point guards the NBA has ever seen. When Allen Iverson's name was brought up Tuesday, Durant gave Irving the edge over the legendary Philadelphia 76ers' star.
"Kyrie's better than AI, to me," Durant said, to which Simmons agreed.
"I'm going skill for skill. His handle is better...Kyrie got more skill, I'm sorry."
LeBron James rightfully won the 2016 NBA Finals MVP award when the Cavs defeated the Warriors in the second meeting between the two teams, but Cleveland would not have won the title without Irving's contribution. He outplayed Stephen Curry, who won his second straight regular-season MVP award, averaging 30 points in the Cavs' final three wins. Irving hit the biggest shot of the series, nailing the go-ahead three-pointer with less than a minute remaining in Game 7.
As talented as Irving is and as well as he's played on the biggest stage, he arguably hasn't come close to reaching his potential. The former No.1 overall draft pick has what it takes to be recognized as one of the NBA's elite superstars, but he's too inconsistent to be put in the same category as James, Durant and Curry.
Before Irving's masterful performances at Quicken Loans Arena, the point guard was a disappointment at Oracle Arena. Irving was held in check in both Game 1 and Game 2, totaling more shot attempts (45) than points (43). Even in his brilliant Game 3, Irving missed a contested jump shot with the Cavs trailing by one point late in the fourth quarter, effectively ending their chances to get back in the series.
In the second round of the playoffs, Irving shot just 37.5 percent from the field against the Toronto Raptors. He made fewer than 37 percent of his shots in five postseason games, while James, Durant and Curry combined for just four such performances in this year's playoffs.
When the final MVP voting comes out for the 2017 regular season, Irving likely won't find himself in the top 10. He won't even be among the top three point guards with Curry, Russell Westbrook and Chris Paul all having better seasons.
Irving is a perennial All-Star, and he put up career-highs this season with averages of 25.2 points and 47.3 percent shooting. Maybe he'll improve even more in the 2017-2018 season and join the ranks of the NBA's elite players.
READ: Warriors Are Historic Favorites To Win 2018 NBA Finals
There's been plenty of speculation and rumors regarding what the Cavaliers can do to compete with the Warriors next year. There have been thoughts of Cleveland trading Kevin Love for either Paul George or Carmelo Anthony, but the Cavs could have a difficult time making a major deal this offseason.
As unstoppable as the Warriors seem to be, Cleveland might have the pieces with their current "Big 3" to disrupt Golden State's dynasty. The rivalry that has dominated the NBA currently features three true superstars, and the Cavs need Irving to be the fourth.
© Copyright IBTimes 2023. All rights reserved.