Kyrie Irving Trade Rumors: Minnesota Timberwolves Exploring Possible Deals With Cleveland Cavaliers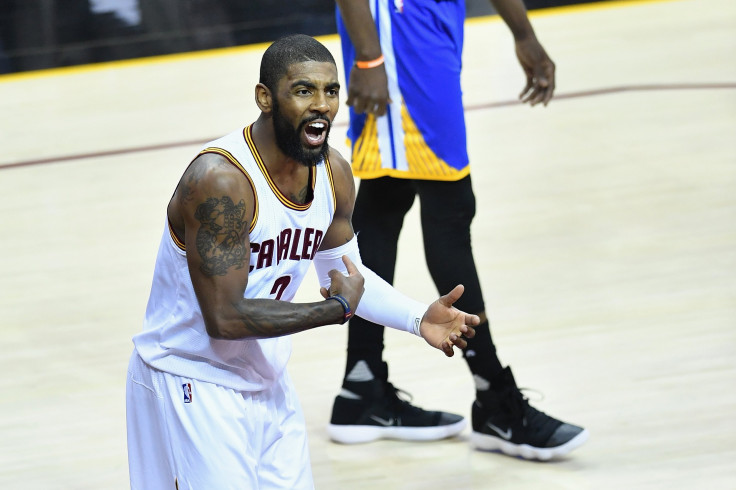 It's been three weeks since Kyrie Irving requested a trade from the Cleveland Cavaliers, but the team still hasn't come close to dealing the point guard. They continue to field offers and are seemingly in no rush to make a move.
One team that could decide to make Cleveland an enticing offer is the Minnesota Timberwolves. According to Jon Krawczynski of The Associated Press, Minnesota is exploring a possible trade for Irving with "incredible seriousness."
READ: LeBron James At Center Of Kyrie Irving's Trade Request
That's good news for Irving, who listed Minnesota among his preferred destinations when he told the Cavs that he wanted out of Cleveland. The San Antonio Spurs, Miami Heat and New York Knicks also made the list.
Cleveland is under no obligation to appease Irving. He isn't like Carmelo Anthony, who has been at the center of trade rumors for months and has a no-trade clause in his contract. The Timberwolves, however, have the ability to offer the Cavs more than most.
Any trade between Minnesota and Cleveland would almost certainly have to include Andrew Wiggins, who was the No.1 pick of the 2014 NBA Draft. He posted career highs last year with 23.6 points per game and 35.6 percent three-point shooting, and he'll enter the 2017-2018 season at just 22 years old.
Wiggins is the type of player that could potentially give Cleveland a better chance to defeat the Golden State Warriors. He has not been the defender that most thought he would be when he entered the league, but at 6'8 he gives the Cavs length and would be an improvement for Cleveland on that side of the floor.
Wiggins almost became part of the Cleveland team that's dominated the Eastern Conference for the last three years. The Cavs drafted him first overall, but they sent him to Minnesota for Kevin Love a few weeks after they signed LeBron James.
Cleveland was ready to compete for a championship, and Wiggins wasn't ready to be an important piece on a team in the NBA Finals. Three years later, that's exactly what the Cavs would ask him to be if they made a trade.
Wiggins could potentially be an All-Star in the East next year, and his game would only improve playing alongside James. He can't play point guard, though, and Cleveland might not be willing to rely on Derrick Rose as their starter for the whole year.
Ideally, Cleveland would also be able to acquire Jeff Teague, whom Minnesota signed to be their starting point guard this offseason. But since Teague joined the Timberwolves as a free agent, the team isn't allowed to trade him until Dec. 15.
READ: LeBron James Denies Rumors He Wants Kyrie Irving Traded
It's hard to see Cleveland trading Irving once the season has started, though it's clear that the team doesn't have much of a timetable when it comes to making a move.
"Right now, Kyrie Irving is under contract with the Cleveland Cavaliers for two or three years, depending on the last year," Cavs' owner Dan Gilbert said at press conference Wednesday, referring to Irving's player option for the 2019-2020 season. "As of now, he's one of our best players, and sure, we expect him to be in camp."
Whether or not Minnesota trades for Irving, they are expected to be much better next season after missing the playoffs every year since 2004. They traded for Jimmy Butler on the day of the draft, adding him to a core that now includes, Wiggins, Teague and Karl-Anthony Towns.
© Copyright IBTimes 2023. All rights reserved.
FOLLOW MORE IBT NEWS ON THE BELOW CHANNELS