La Liga: Real Madrid Midfielder Crucial For Zinedine Zidane In Win Over Espanyol
KEY POINTS
It was another victory for Real Madrid with a win over Espanyol
Midfielder Casemiro stepped up for Zinedine Zidane's club
Real Madrid is currently number one at the La Liga team standings
The La Liga season is back and Real Madrid has been dominating ever since the games resumed. The team has been on a hot streak as they picked up another victory with a 0-1 win over Espanyol.
For Zinedine Zidane's club, it was the midfielder Casemiro that did a lot of damage for the matchup. The manner of how he positioned well on the pitch and delivered for Zidane throughout the game was big for the Los Blancos victory. Per The Real Champs, his overall playstyle complemented the club the whole night on the defensive as well as the offensive side of the game.
The team looked cohesive throughout the match and the anticipation that Casemiro displayed was phenomenal. The way he provided multiple scoring opportunities for Real Madrid proved to be overwhelming for Espanyol's strategy. The Brazilian star was all over the place with his energy and had brilliant passes to Isco for possible offensive attacks.
To add to Casemiro's brilliant evening, the highlight of the bout came from his goal. It was a highlight backheel assist from Karim Benzema that opened the chance for Casemiro to score at the 45th-minute mark. After that moment, Espanyol was unable to rally back as Real Madrid took over the entire match.
With another victory on the board, the Santiago Bernabeu-based squad is looking to take over the La Liga season. The standing in the league continues to be a close affair between Real Madrid and FC Barcelona.
Boasting 21 wins, eight draws and three losses, Zidane's team is currently on top of the competition. But the past few days have featured a back and forth affair between the two as both clubs have constantly been exchanging positions as the number one seed. For Real Madrid, they currently hold a slight advantage over Barcelona with 71 points over Barca's 69.
It will be interesting to see how Real Madrid moves forward in the remaining games of the season. With players such as Casemiro ready to step up for Zidane, the team is looking to finish the campaign on a strong note.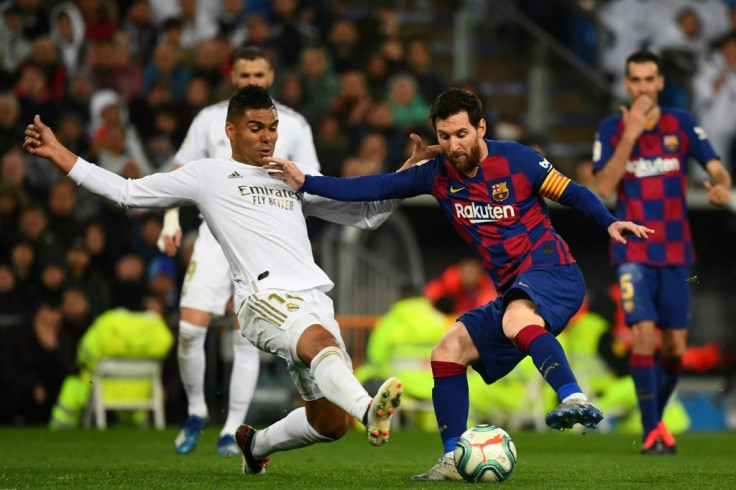 © Copyright IBTimes 2023. All rights reserved.