LA Rams New Stadium: Will Los Angeles Fans Support An NFL Team After A 21-Year Absence?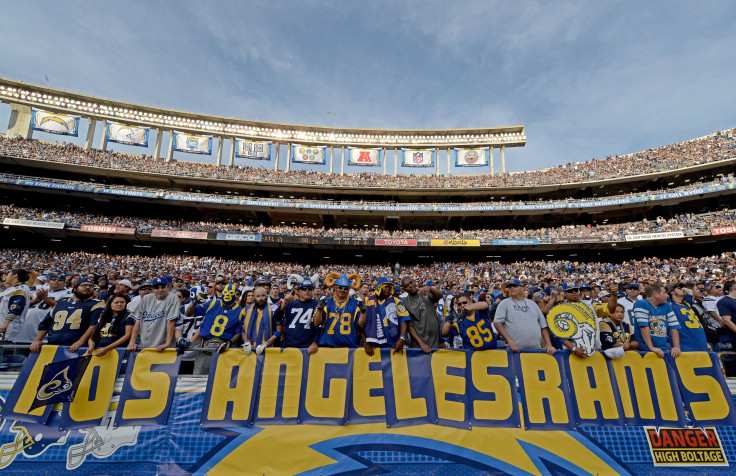 Misconceptions have been plentiful over more than two decades when discussing professional football in Los Angeles. Since the Rams and Raiders left in 1995 for St. Louis and Oakland, respectively, the common opinion was blasé southern Californians were not as interested in football as the rest of the country, otherwise the teams would have stuck around.
Years later the growing consensus seemed to be that L.A. didn't deserve a team due to lagging attendance and an overall lack of enthusiasm. Los Angeles was considered a Laker or Dodger town, or its attention was split between USC and UCLA. The entertainment capital of the world was also perceived to have more of an interest in television, movies or the beach, while sports only seemed to matter when a local team was winning championships.
But what on the surface seems like a bad football town looks more like a false understanding of the constant changes of the team-sports climate. Neither the Rams nor the Raiders found financial success upon leaving Los Angeles, with the Rams valued at No. 28 ($1.45 billion) and the Raiders at No. 31($1.43 billion) as both teams were consistently near the bottom in league attendance. Yet, even struggling teams are able to turn a sizable profit with television deals and merchandise, while the NFL has changed dramatically with growing multimedia platforms and technology.
There currently remains an unsettling sense of trepidation about the Rams return. Some may question the decision by owner Stan Kroenke to leave St. Louis, a city that has had a loyal following for their MLB and NHL teams, to go to a town with two baseball teams, two NBA teams, one NHL team, one MLS team (and another one the way), as well as two prominent college sports programs. In the Rams' final season at Anaheim Stadium, attendance was horrendous, with their final two home games drawing just 34,150 and 25,705.
This time around should be quite different. First, make no mistake, an NFL team in Los Angeles is long overdue, despite any perceived past failings. The NFL is the most popular sport in the U.S., and the lack of two teams, let alone one, in a city of more than 13 million residents seems like an elaborate hoax. Imagine the uproar if Barcelona was suddenly denied a soccer team.
Second, cities and fan bases also change over time. Los Angeles is a very different city than it was in the mid-90s, much like St. Louis has changed when it failed to keep the football Cardinals after the 1987 season and even the NBA's Hawks after the 1968 season. For better or for worse, attendance figures and general support fluctuate depending on the team's success, the economy and other factors.
While there is no guarantee fans will return in droves after a 21-year absence, there are many thoughts to consider about the Rams move to Los Angeles and why there is probably more room for optimism than pessimism that fans will show up.
LA Has Done A Good Job Of Supporting Teams
The argument that fans won't show up for an NFL team seems a bit far-fetched considering attendance figures for the Dodgers, Kings, Lakers, Clippers, USC football, and UCLA football. The Dodgers led baseball in attendance in 2015, and the Kings expect to sell out every game this season and should continue a sellout streak that began on Dec. 3, 2011. The Lakers had a sellout streak of 320 games, and still sell out every game despite being one of the worst teams in the NBA. The Clippers also sell out every game, while USC football drew an average of nearly 74,000 at the Coliseum, and UCLA football had an average of roughly 67,000 at the Rose Bowl.
A New Stadium Changes Things
The reason both the Raiders and Rams left in 1995 was almost entirely due to poor stadiums. NFL teams need state-of-the-art facilities that include luxury boxes, and neither the aging Los Angeles Memorial Coliseum nor Anaheim Stadium was up to standard. Traffic and parking were also problematic. The new stadium's location should be easier to access with their proximity to the 110, 105 and 405 freeways.
The Rams are also expected to be more visible. Raider home games were not seen on TV in Los Angeles if the game didn't sell out, which was often the case. This time around, the new stadium has a better chance of selling out by having fewer seats than the cavernous Coliseum, which has a capacity of over 92,000. It will be interesting to see how sharp the uptick will be for attendance at the Coliseum over three years compared to the attendance for the 2019 season, when the stadium is expected to open.
The Fan Experience At Stadiums Has Improved
In years past there were risks associated with attending an NFL game, particularly at stadiums with aggressive and rowdy fans. Those days are gone.
The new stadium will no doubt be loaded with amenities and should make attending a game a lot more fun than it was more than 20 years ago. Much like AT&T Stadium in Arlington, Texas, the stadium in Inglewood will draw an excited, eager, and curious crowd. The novelty of a new stadium won't wear off for several years, which means consistent big crowds.
Here's another bonus to generate interest: with the warm Los Angeles climate and a new stadium, Los Angeles seems assured of hosting multiple Super Bowls.
LA City Officials Didn't Use Public Money For A Stadium
A big reason for the NFL's long absence was due to local lawmakers not caving on allocating public funds for a stadium, as such projects often yield a negligible financial return.
Detroit received heavy criticism for using $284.5 million in public funding for a new hockey arena project for the NHL's Red Wings just days after filing for bankruptcy. Los Angeles has effectively avoided a similar public-relations nightmare with a privately funded stadium. The Rams return without any vitriol directed at them over their new home.
Better Ownership Should Lead To Better Support
With the Raiders arriving in Los Angeles in the 1982 season after 21 years in Oakland, many locals didn't feel the team completely belonged to the city. The Rams, meanwhile, managed to lose a sizable portion of their fan base with their move one-hour south to Anaheim in 1980. All the while, Los Angeles football fans were frustrated by a lack of competent ownership.
Many felt that Raiders owner Al Davis and Rams owner Georgia Frontiere took L.A. fans for granted for showing a reluctance to attend games at aging stadiums and while the local economy was in a recession. When NFL owners overwhelmingly rejected Frontiere's bid to move to St. Louis in March 1995, then-commissioner Paul Tagliabue said the team failed to show large financial losses over several years but Frontiere kept pushing for a move anyway. Davis was involved in multiple lawsuits against the NFL, he benched and then released fan-favorite running back Marcus Allen, and he also pocketed millions from sparsely populated Irwindale, California, for a stadium that failed to come to fruition.
Kroenke should be a major step up from Davis and Frontiere. It will be up to Kroenke and the front office to make sure the Rams feel like a true Los Angeles team and have a positive influence on the surrounding communities.
The Rams Have A Better Chance Of Winning Than An Expansion Team
Los Angeles football fans craved an expansion team, but they should be better off with the Rams.
In the same year the Rams and Raiders left Southern California, the Carolina Panthers and Jacksonville Jaguars entered the league. In 1999, the NFL made good on its promise to bring a team back to Cleveland after the Browns left for Baltimore. And when in 2002 it came down to a final expansion team to bring the league's team total to an even 32, the NFL bypassed L.A. for Houston, a big-market city that didn't have professional football since 1996. Houston, boasting less expensive real estate than Southern California, simply presented a better stadium plan than Los Angeles, forcing the NFL to once again snub the city.
But the Panthers, Jaguars, Browns and Texans all have the same thing in common: they each have never won a Super Bowl. The Panthers, who reached the Super Bowl in 2003, are strong contenders this year, but have finished above .500 just six times. All four teams have an all-time record below .500, and Jacksonville, Cleveland and Houston have seven total playoff wins combined.
Winning is obviously important to the health of any franchise. The St. Louis Rams won a Super Bowl, reached the playoffs five times and finished a respectable 7-9 in the competitive NFC West in 2015. Those are decent returns. But more importantly L.A.'s new team won't be starting from scratch or have growing pains in 2016. There are also nostalgic fans who are thrilled their team is back and starting fresh with a new stadium on the way.
© Copyright IBTimes 2023. All rights reserved.